Top 10 Beaches near Jakarta
If you are looking for beaches near Jakarta to get away from the city, you have come to the right place. Our list of beaches are reachable from Jakarta on just land or plus boats, from as little as 3 hours and up to 6 hours or more. Paradise is worth some effort!
Nobody would ever think that the landlocked Jakarta city has beaches, but you will be surprised how you can get to some beautiful ones in no time. Beaches are one of the best getaways from the hustle and bustle of this metropolitan city. Here is our list of beaches nearby Jakarta that you can get ti
Beaches at Jakarta
Ancol Beach
This beach is located in the North Jakarta. It is the most well-known beach and the closest one from the city center since you don't have to cross the sea by boat to get into this place. Ancol beach is inside the main complex of Taman Impian Jaya Ancol (Ancol Dreamland). It is divided into six different beaches; Pantai Karnaval Ancol, Pantai Festival Ancol, Pantai Ria Ancol, Pantai Indah Ancol, Pantai Beach Pool or Ancol Lagoon, and Pantai Marina Ancol. Besides staying in the best hotels in Jakarta and just visit this place, or stay at this nearby well rated Hotel Grand Mercure Jakarta Kemayoran * which has free shuttle to this place or a new up and coming cozy Peggy Apartment * with a sea view.

Beaches around 3 hours from Jakarta
Beach at Macan Island
This is an exclusive and private island with only 30 minutes away by boat from Marina Ancol, Jakarta. Scuba diving is a favorite activity here. This exclusive island allows only up 30 guests each time. Hence, it is reserved for those who are out to splurge. This island is well known for combining eco concept with modern technology. It is also no doubt a favourite of many romantic getaways.
Anyer Beach
The next nearest beach is about 150 km away from Jakarta and it is called Anyer Beach. This beach is famous for its beautiful sunset here. While for those who like activities, there's water sports, snorkeling and surfing at this beach. Staying for one or two nights here would be enough. Accommodations are available from hotel, villa, cottage, and homestay. Best place to stay on Anyer Beach * itself is at the Hotel Aston *, a luxury villa with Indonesian charm. If you prefer nearer to Anyer town, then Hotel Aston * is for you with its own private beach and sunset dining option.
Carita Beach
Beside serving as a gate to into Peucang Island, Carita Beach is worthy as a destination itself. This beach has a wealth of resources such as fish, seaweed, and other marine products. Together with a long sandy beach and an amazing view of Mount Krakatau, you can enjoy the rhythm of the waves along with fresh breeze. Carita Beach can be found after you exit at Serang, coming from Jakarta. A good place to stay near Carita beach is the Villa Roca Layung *.
Pasir Panjang Beach on Sangiang Island
If you are a big fan of underwater life, then Sangiang Island is a good choice. The route to Sangiang island is quite easy. From Jakarta, get to the city of Serang, Banten, and then you can use public transport or car directly to Cilegon and head directly to Paku Anyer Port. Take a boat about 45 minutes then you will find one of the hidden paradises in Banten. If you snorkel or dive here, you will find thousands of clownfish down there. Unfortunately, there are no resorts is built here yet but you can stay at the local houses or homestays.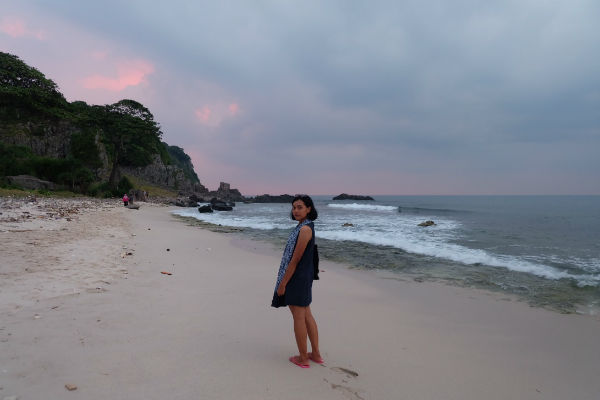 Beaches about 6 hours away from Jakarta
Sawarna Beach
Sarna beach is about 280 km from Jakarta. The fastest route is starting from Jakarta to Serang Timur – Pandeglang – Malimping – Bayah then Sawarna. This place is still very much off the radar since there is no public transportation that takes you directly here. Most visitors drive here themselves. A tourist attraction here is the iconic large rock which the local people call Batu Layar. The waves are also good for surfing at this beach. If you plan to stay longer, some resorts are available with sea-view rooms and other facilities. At such less touristed place, it's your chance to try out an authentic homestay, such as Sawarna BimBim Seaview Homestay *
Ujung Genteng Beach
Find a typical white sandy beach with the sun dancing on the sea which is safe to swim in at Ujung Genteng Beach. It takes around 4 to 5 hours from Jakarta to get here, first with a bus going to Sukabumi and then by public transport to Lembur Situ – Surede – Ujung Genteng. The route is steep and uphill but once your eyes finally meet this coastline, you will forget your long journey. Turtle Beach Hotel * is a good choice here with its own private pool and direct beach access, plus there's BBQ!
Peucang Island Beach
A province close by to Jakarta called Peucang has one hidden beach which you can easily visit during your weekend. Peucang Island is located inside Ujung Kulon National Park in the Pandeglang district, Banten. It is truly a heaven in the westernmost part of Java Island. Here you will find soft white sandy beaches, clear blue sea, and stunning coral reefs. There are also deer playing around at the beach! This place is accessible by taking a speed boat for 3-4 hours from Sumur Dock or Carita Beach.
Tunda Island Beach
Nearby beaches to Jakarta are mostly located in Banten area and this one is another stunning beach on Tunda Island. The location is farther compared to Sangiang. Take a bus from Jakarta to Merak, get off at Pakupatan Serang Terminal then continue the journey by public transport directly to Karangantu Port take a 2 hours boat ride to the island. This place is great for snorkelling with rich coral reefs.
Pahawang Beach
From Jakarta, you can take the bus to Merak Port to cross Sunda Strait for 3 hours reaching Bakauheni Port in Lampung. After that, head to Ketapang Dock and take the boat for 2 hours to finally get to Pahawang Island. This remote island is worth the effort to get to, especially for marine life lovers. Snorkeling is the best activity to do here but besides that, it is great to walk down the beautiful white sand beach that is lined with rows of palm trees.
Related articles:
Top 10 Best Beaches in Java
Top 10 Day Trips from Jakarta
Top 10 Things to Do and Must See in Jakarta