The Ultimate Guide to your Labuan Bajo Trip
Here is the ultimate guide to Labuan Bajo, a hidden gem and gateway to wild nature in Indonesia. This place has been one of the Top 5 Super Priority tourism destinations since July 2019. With several exotic islands in the middle of the high seas, you enjoy various natural beauties, such as the Komodo dragons on Rinca Island or Komodo Island, underwater biodiversity, and fantastic beaches.
Labuan Bajo has become a popular tourist destination in recent years, attracting visitors from all over the world. The town offers a range of accommodation options, from budget guesthouses to luxury resorts, and has a variety of restaurants, bars, and shops to cater to tourists' needs.
Where is Labuan Bajo
Labuan Bajo is located at the western end of the large island of Flores in the Nusa Tenggara region of eastern Indonesia. It is the capital of the West Manggarai Regency, the major administrative division of Flores. It is situated in the Lesser Sunda Islands, between the islands of Sumbawa to the west and Timor to the east. Labuan Bajo is approximately 664 kilometers (413 miles) east of Bali, one of Indonesia's most well-known tourist destinations.
It is the gateway to the famous Komodo National Park, a UNESCO World Heritage site known for its stunning natural beauty and vibrant marine life.
Why visit Labuan Bajo
You should visit Labuan Bajo not only for the famous Komodo Dragon or the sea view, which are plenty of good reasons. You should also visit for its natural beauties, such as waterfalls, caves, and hills, and the cultural experiences with the locals.
One of the main attractions near Labuan Bajo is Komodo National Park, home to the famous Komodo dragons, the world's largest lizards. Other natural wonders surround Labuan Bajo. Nearby, you can find the mesmerizing Padar Island, with its distinct hills and breathtaking viewpoints, and the beautiful Pink Beach, named for its pink-colored sand.
Overall, Labuan Bajo is a paradise for nature lovers, offering a mix of stunning landscapes, unique wildlife, and unforgettable experiences that make it a must-visit destination in Indonesia.
When is the best time to visit Labuan Bajo
Every season is the best time to go! You can go visit Labuan Bajo anytime. Why? Because nature in Labuan Bajo will show its beauty each season with different colors and vibes. Here is the information for each season:
From November to February, it is the rainy season in Labuan Bajo. You can enjoy the sailing trip even with cool, windy, and wet conditions; it doesn't rain every day! You can ask the hotel or trip agency if it's possible to make a sailing trip that day. They will inform you directly if you can go sailing or not. Bringing your raincoat or an umbrella in case of rain is advisable. If you're lucky, you could get a good picture of the green grass at Padar Island.
From March to August, it is summer in Labuan Bajo. You can enjoy the sailing trip while enjoying the summer breeze there. It is a perfect time to sail if you love summer that much. Many tourists from abroad have vacationed in Labuan Bajo these months. Don't forget to apply your sunscreen while sailing! The sunburn in Labuan Bajo is something. The locals said there are seven suns in Labuan Bajo. Can you imagine how hot that is?!
From September to October, it is the changing season in Labuan Bajo. You can see the grass turning brown and dry. If you want to take pictures with an aesthetic background, this season is the right time to visit Labuan Bajo. But don't forget to bring your umbrella and sunscreen to be prepared for the season! It can be rainy or dry.
Labuan Bajo Attractions
Besides Komodo dragons, the iconic tourist attraction in Labuan Bajo is Padar Island. You must hike 700-800 stairs to the top to reach the perfect view.
Then the other islands are Kanawa Island to snorkel around the beach, snorkel in the middle of the sea to spot Manta Rays fish, the iconic Pink Beach, and the super small island with white sand, Takka Makassar; last but not least, Komodo dragons at Komodo Island. However, remember that even when you see Komodo, even if a guide accompanies you, you must still be careful.
Another highlight of Labuan Bajo for its land experience is you can communicate directly with the locals and visit several tourist attractions such as Melo Village, Cunca Wulang Waterfall, Sylvia Hills, Marina Bay, Rangko Cave & Batu Cermin Cave.
Things to Do in Labuan Bajo
Island hopping
Island hopping around Labuan Bajo is the main activity for your itinerary. You must wake up early because the travel agent will pick you up by car or hi-ace at around 6 to 7 am and drive you to the port. You can choose whether you want to explore the island in private with your friends or join the trip with other tourists, where you might meet new adventurous friends with different nationalities from the trip!
Visit Padar Island
Usually, the first place you will visit is Padar Island. You have to wear comfortable or suitable shoes to hike the island. There are five posts until the top; you will see the panoramic views from each post from the bottom to the top. I recommend you hike until post 4 because it is the best post to take pictures of the whole Padar Island landscape.
Meet Komodo Dragons
Next, you will visit Komodo Island to meet the Komodo dragons living there. Of course, a Komodo Ranger will guide you along the tour. They will tell you the Komodo dragons' story and help you find the Komodo. Komodo dragons are very sensitive to the smell of blood; if you are a woman in menstruation, you better stay at the local food stalls or shops to avoid the Komodo dragon's aggressive reaction.
Marvel at Pink Beach
After that, you will visit Pink Beach, which is unique for its pink-colored sand because of the coral shards. You can snorkel to meet Manta Rays and also Kanawa Island.
Check out this tour that will take you to all the above *
Trek to Cunca Wulang Waterfall
Taking a short trek to Cunca Wulang Waterfall * for an adventure in Labuan Bajo can be an option.
Check out the tour to Cunca Wulang Waterfall and more! *
Liveaboard or Diving
And also, don't miss the exciting experience of trying Liveaboard *, which is stay on a phinisi boat * for a few days while sailing to visit beautiful islands. You can also dive to see the unique underwater beauty of Labuan Bajo.
Tour options for your Labuan Bajo Trip
Speedboat tour of Komodo National Park, visiting the top six spots. Includes hiking Padar Island, snorkeling with mantas, and spotting Komodo dragons. All-inclusive with lunch, equipment, and floaties provided
3-day, 2-night sailing on Phinisi boat tour of Komodo National Park. Swimming and snorkeling at Kanawa Island, Manta Point, Taka Makassar, and Pink Beach. Visit Komodo Island, Kelor Island, and Kalong Island to see Komodo dragons and witness stunning sunsets.
Explore the beauty of Labuan Bajo with a tour to Cunca Wulang, Rangko Cave, Mirror Cave, and Sylvia Hill. Refreshing swims, stunning landscapes, memorable photos, and breathtaking sunsets from the finest vantage points.
Best Hotels in Labuan Bajo
Labuan Bajo has various hotels, from affordable to high prices. Not only that but also the kinds of hotels you prefer.  You can take a look at hotels based on your budget and interest. So, these are recommended stays at Labuan Bajo.:
AYANA Komodo Waecicu Beach is a luxurious resort in Labuan Bajo, Indonesia, offering stunning ocean views and a private beach. It features elegant rooms, an infinity pool, a spa, and multiple dining options. The resort is known for its exceptional service and is an ideal choice for a high-end stay in the area.
For those seeking adventure, the resort can arrange various excursions and activities, such as snorkeling and diving trips to explore the vibrant underwater world of Komodo National Park, hiking trips to nearby islands, or boat tours to see the famous Komodo dragons.
Check out the latest prices on Agoda.com *
This hotel has decent facilities compared to the other budget hotels. Their swimming pool is the largest there is. This hotel has a jetty to catch sunsets and watch local children fishing, playing, and swimming.
They also have various kinds of food menus consisting of Indonesian & Western foods. The price is quite affordable, starting from IDR 30.000 for each menu (approx. $2) and starting from IDR 1.000.000 for a night stay with breakfast (approx. $65). You will get the best sunset view from this hotel; make sure to book your room facing the sea – Superior Sea View / Premier Room.
Check out the latest prices on Agoda.com *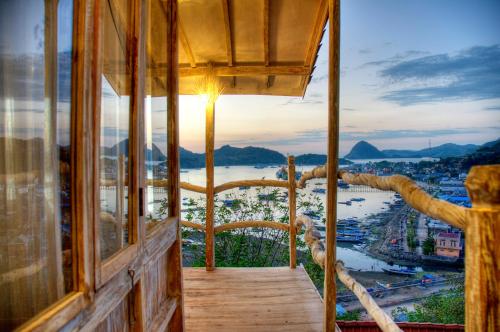 If you are looking for earthy and aesthetic stays, you can book a room at Selini On The Hill. This villa has limited spaces, and you have to call them to ensure they have an available room for you. The view of this villa faces the sea and the local village called "Kampung Air."
A tip, huge luggage is not recommended, as access to the villa is not easy. A backpack will be ideal because you must walk uphill and climb stairs.
The price of a villa starts from  IDR 700.000 per night with breakfast (approx. $46). You can choose your breakfast; a pancake or a scrambled egg with a cup of coffee or tea. If you don't want to go to their restaurant for breakfast, you can request the staff bring your meals to your room.
What and where to eat in Labuan Bajo
If you choose to stay at Laprima Hotel, you can take their scheduled complimentary shuttle to stroll around Kampung Ujung. Some food stalls provide fresh seafood.
To chill and enjoy the sunset, you can visit LOCCAL Collection *. LOCCAL has a structure that resembles Santorini, Greece. Here you have to buy a voucher  IDR 200.000/person, which can be exchanged for the food or drinks there. You can also stay at this beautiful hotel at an affordable price!
For coffee shops, you can go to Marina Bay to find Starbucks and Melinjo (you should try their croissants & pastries! So good!), and La Bajo for unique arabica beans from Flores, and Carpenter Cafe & Resto, which is brewing specialty coffees.
How to get to Labuan Bajo
Fly from Soekarno Hatta Airport; I recommend taking Batik Air or Citilink for your flight options. The ticket price is around IDR 4.000.000 to 5.000.000 (around $263 to $330), return direct flight to Komodo Airport.
You can take the Laprima airport shuttle to check in to the hotel or take taxis if you book other hotels. Labuan Bajo has no such thing as Uber or Grab for transportation except for food delivery. So, you have to be careful in choosing your taxis.
How to get to Labuan Bajo from Bali
To reach Labuan Bajo from Bali, you have two main transportation options:
By Air: Enjoy a quick and convenient journey by taking a flight from Ngurah Rai International Airport in Bali to Komodo Airport in Labuan Bajo. The flight lasts approximately one hour, making it the fastest way to reach your destination.
By Sea: For a more scenic and adventurous experience, opt for a ferry or fast boat ride from Bali to Labuan Bajo. The ferry journey takes around 4-5 hours, while fast boats offer a shorter travel time of 2-3 hours, allowing you to soak in the picturesque views of the Indonesian archipelago.
Alternatively, you can take a boat from Lombok to Komodo, Flores.
How to get around Labuan Bajo
It is a relatively small town so that you can walk around.
You may also rent a bicycle nearby Labuan Bajo Square. The name of the bicycle rental is NOA Bike. You should download its app to rent your bicycle. The rent starts from IDR 20.000/hour (approx $1.3).
To get around Labuan Bajo by car, you may use a taxi; it's around IDR 70.000 to 100.000 per trip (approx. $4.6 to $6.5)
Where to visit near Labuan Bajo
Komodo Island – for the famous Komodo Dragon!
Lombok – An Indonesian island east of Bali and west of Sumbawa, part of the Lesser Sunda Island chain.
Bali – An hour's flight away. Bali is a paradise on earth and rich in cultural experiences, especially for Hindu beliefs and its nature. You should visit Bali too!
Tips for your trip to Labuan Bajo
Bring a raincoat or an umbrella, if you want to go in rainy months. Don't forget to use sunscreen to avoid sunburn, and wear your summer outfits (hats, sunglasses, comfortable shoes, and swimwear to snorkel or dive into the sea).