Your Lombok travel guide to Indonesia's emerging next top destination as it lies just to the east of Bali. Lombok also boasts pristine beaches, crystal clear blue seas, diving spots, and surfers' nooks, but without all the tourist crowds of Bali.
Visit Lombok for a powdery white sand beach, dive into the deep sea filled with corals and marine life, and hike up Mount Rinjani, which stands majestically over Lombok's villages, rich with culture, history, and people.
Just off the coast east of Lombok is the Gili Islands, which is not too far west of Bali. Smack right between these powerhouses; Gili Islands is the last remote island you can get around here. No motorized vehicles are allowed on these islands, which are made up of three islands – Gili Trawangan, Gili Meno, and Gili Air.
You can find nature's best here, untouched and unspoiled; therefore, explore away on land and dive deep into the uncharted seas.
Lombok Travel Guide
In recent years, Lombok has been getting more press and recognition in the tourism industry as a top travel place, and many people are touting it as the next Bali or the alternative to Bali or the Bali before the commercialization. Though Lombok may not appreciate such references, it cannot be helped as it is located right next to the famous Bali, which needs no more introduction to world tourism.
That said, Lombok had been famous in the circles of independent travelers for many years. Everybody knows this so-called best-kept secret which is not much of a secret anymore. This is because Lombok has lots to offer, from beaches to diving spots to surfing and even a volcanic mountain, Mount Rinjani, which is famous for hikers and trekkers.
The indigenous Sasak comprises 90% of the Lombok population and is Muslim with their own culture and language. The name Lombok is derived from it, which means straight (ahead). But more tourists said that the name means chili as it means so in Bahasa Indonesian. Nevertheless, both hold some form of meaning and relation to this island.
Where is Lombok
Lombok is an island located in Indonesia. It is part of the West Nusa Tenggara province and east of Bali. Lombok is known for its beautiful beaches, stunning landscapes, and traditional Sasak culture.
Lombok Travel Map
Why visit Lombok
Relatively still unspoiled compared to its neighbor Bali, Lombok boasts many natural tourist attractions like beaches, waterfalls, volcanoes, mountains, and a crystal blue sea.
Besides, the indigenous Sasak's local culture is still alive and the way it is from old times, while the businesses around are still very much run by the local people.
Come here for the famous tourist attractions in Lombok, like the three Gili Islands that so many travelers talked about, the magnificent hike up Mount Rinjani, the surfer's paradise at Kuta beach, and the beautiful beaches at Senggigi's long stretch of sweeping bays.
When is the best time to visit Lombok
Most of the time is an excellent time to go to Lombok, like the rest of the Indonesian weather and climate; it is dry and hot with some rain at certain times of the year.
The best time to go to Lombok will be the dry season if you want to enjoy every moment fully: June – February. However, peak season will see many tourists, especially during July/August or December/January.
Also, come here during February or March to catch a glimpse of the first nyale (wormlike fish) at Lombok's famous Bau Nyale festival. The indigenous Sasak people of Lombok will commemorate a mythical princess who had drowned in these waters to escape a politically arranged marriage. This festival is done at the same time as the season of these wormlike fish, where they are caught and eaten roasted in banana leaves with much enthusiasm.
Places to Visit in Lombok
Mawun Beach – this quiet and beautiful beach is one of the favorites of independent travelers as it has yet been touched by mass tourism with fewer people, clear waters, and soft white sands. This is a kind of protected cove that is ideal for swimming as the coral/rocks are far out. Though be careful as the place is quiet, there are reported thefts around when things are left unattended.
Sendang Gila Waterfall (or Sindang Gila) means a slightly crazy waterfall. If to go with its namesake, it is crazily beautiful, with tall and looming waterfalls amidst the jungle backdrop. Unfortunately, though the place is now well known thus, tourist touts haunt this place.
Air Terjun Tiu Kelep (waterfalls) is your next best choice if you want a less touristy alternative. This waterfall is another 1-hour walk in, and it is advised to get a local guide to show you the way as the path could be tricky. Here you will have a deep pool to swim in or for the adventurous to jump off the rocks or use a tunnel with the concrete shoot as a water slide.
Sukarare – for those interested in local arts and handicrafts, you can find a weaving village in Desa Sukarana (village). The things here are cheaper compared to shops in Senggigi.
What to do in Lombok / Activities
Diving – Lombok is one of the best diving sites in Indonesia, having features such as drop-offs, plateaus, and slopes among fascinating corals and diverse marine lives. You may find Hammerhead sharks here and other wild marine life.
Surfing – another top with being one of the best places to surf in Indonesia, Kuta Beach is known as the surfer's paradise. One of the famous secret yet not so secret any more surf places is The Desert Point. There are also good surf breaks here in surf spots like Mawi, Mawun, and Point X along the southern coast of Lombok.
Trekking Mount Rinjani – the second-highest volcano in Indonesia after Mount Kerinci in Sumatra, is one of Indonesia's most famous volcano trekking. This is because it offers an amazing adventurous hike with a breathtaking peak view. The demanding trek that requires two days to conquer the mountain will make it all worthwhile when greeted by the view at the summit.
Where to Stay in Lombok
What and where to eat in Lombok
Lombok's word is similar to the word chili, and what more than paying homage to its name and giving yourself a taste of it? You might get burned, but it is worth it as it comes in the form of sambal that, unsurprisingly, the locals know well to make it dangerously delicious.
Sambal is a spicy condiment that you may dip with most of your local Indonesian food or cook into some dishes like curry or grilled meat.
The best local dish is ayam taliwang, which is chicken coated with a rich red sauce of galangal, turmeric, and tomato, and it can be hot or not, depending on where you get it. Generally, the inexpensive food to eat here is mixed rice (nasi campur), where you can choose a variety of meat and vegetable dishes to go with your rice. Sambal would be your universal condiment of choice here.
How to get to Lombok
Flights
Lombok has its international airport (Bandara Internasional Lombok), and Indonesian domestic airlines fly from places like Bali, Jakarta, Surabaya, and Medan. International flights are limited to Singapore by Silk Air and Kuala Lumpur, Malaysia (with a stop at Surabaya) by Garuda Airlines and Air Asia. There are seasonal charters by Nordwind Airlines to/from Russia. Take note of the departure tax of around 25,000 Rp for domestic and 100,000 Rp for international. Check here for visa requirements to Indonesia.
From the airport to the center of Lombok, you may take the airport bus that serves routes to Mataram or Senggigi. Else you can always opt for a taxi, though be careful and look for genuine or metered taxis.
By Ferry
You can take ferries from Bali to Lombok, which depart every hour and take about 4-5 hours. There are also fast boat options from Bali to Gili Islands in Lombok.
Some ferries connect Poto Tano in Sumbawa to Labuhan in Lombok.
---
Gili Islands Travel Guide
The Gili Islands are the archipelago of three islands: Gili Trawangan, Gili Meno, and Gili Air. Locally it is known Tiga Gili (which means three Gilis) or Kepulauan Gili (Gili Islands).
They are nestled between Bali and Lombok; these islands are the answer for those seeking remote island experience, which is rare nowadays. With small huts and resorts sprawled sporadic across non-motorized streets, this place is a paradise.
Here you will find small huts as resorts for tourists, and the locals stay in the township of Trawangan on the east side inland. No motorized vehicle is allowed in the islands, therefore, keeping the experience of remoteness wholesome, where people would use a bicycle or, more romantically, horse-drawn carriage called cidomo.
Diving is also popular here for the untouched corals and abundant sea life.
Though it is popular for Bali tourists to hop over to Gili Islands as it is nearby, they are worth a more extended trip there.
Why Visit the Gili Islands
Go for the last chance to bask in real island life that is both serene and still rich with flora and fauna the way it has been for years and years. Think of a mix of reggae beats while you sip your drink, staring out horizon accompanied by gently lapping waves. To top it off, no hustle and bustle of motorized vehicles leave the place serene and air clean.
If you must have more spirit to your retreat among serenity, head to Gili Trawangan for a dose of thrice weekly parties.
Best time to visit the Gili Islands
Most of the year, these islands near Lombok have good weather, with a mix of dry and hot in the day and slightly cool at night. Go during the dry season to have your tropical island experience. The best time to go to Gili Islands would be September to November, for the best weather yet not too packed with tourists.
You may want to avoid the rainy season from November to April, but it does not rain much, and the peak tourist seasons are July-August and December-January.
Things to Do on the Gili Islands
Scuba diving
Gili Islands is very popular with scuba diving, having almost 20 dive sites rich in corals and sea wildlife. When you dive, you can catch glimpses of, to name a few, green and hawksbill turtles, white-tip reef sharks, manta rays, and parrot fish. Visibility is around 15-30m range, and in some parts, the currents are strong enough for drift diving. Dive courses are also available and are priced similarly to other places in Asia, like Malaysia and the Philippines. I would go as far as to say one of the main attractions here, besides the tranquility, is the numerous beautiful dive sites.
Snorkeling
If diving may not be your thing, but you still want to enjoy the coral and marine life, then snorkeling is the next best thing. With the clear waters and rich coal life, you may well have an enjoyable snorkeling experience here. Check with your guesthouses or nearby for those snorkeling programs that would stop at like three or four spots around the three islands
Surfing
This may not be the most popular thing to do as there are only occasional waves the south of Gili Trawangan that can accommodate light surfing.
Walk
Just walk around the islands' coastlines as a leisure stroll, for there are no hills, but it can be from a short 90-minute walk to extensive 3 hours, and soak in the island breeze and sun.
Relax
Else one of the best things to do here is basically to do nothing. With no motor vehicles to disturb your peace or atmosphere, you can idle away the time by chilling on your private verandah or at various restaurants and cafes by the beach. Occasional dip in the sea would be a suitable break in between.
Where to stay on Gili Islands
As the demand is higher than the supply here, the prices tend to be higher than their counterparts in Bali and Lombok. The choices are your usual backpacker's inns and guesthouses. Also, do pre-book during peak season too, which is July-August and December-January.
Gili Trawangan
Most good hotels are in Gili Trawangan * as it is also the largest and the most popular. Here are a few of the best ones: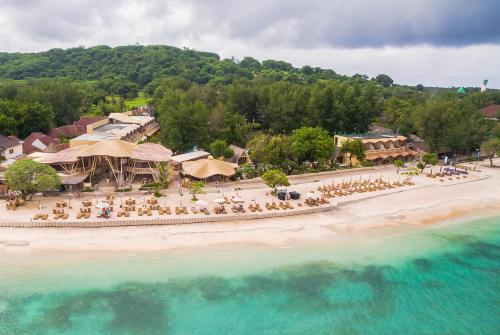 A beachfront resort with an outdoor pool and bar, this place is ideal for those who want to relax in style. Styled with rustic designs, the individual huts are unique and inviting. Themed with a tropical island feel and filled with lush gardens, it is truly a dream to stay here. Prices start from 140 USD.
Check out the latest prices and reviews at Booking.com *
Check out the latest prices and reviews at Agoda.com
Another beachfront resort features spacious standalone bungalows and villas with a traditional wood interior. Each villa has its private terraces, and there is also an outdoor pool. Prices start from 120 USD.
Check out the latest prices and reviews at Booking.com *.
Check out the latest prices and reviews at Agoda.com *
If you are looking for the famous swing at the sea of Gili Islands, it is located at Ombak Sunset resort hotel * at Gili Trawangan.
Gili Meno
For somewhere quieter yet not too quiet, Gili Meno is where you want to stay *. It is like a mix between the vibrant Gili Trawangan and the serene Gili Air.
Seri Resort
Located right on the white sandy shores, this beachfront accommodation has a clean and modern design, somewhat reminiscing of a sailor's house with its stark white and blue theme. It also features an outdoor pool overlooking the sea. It is recommended with prices starting only from 60 USD.
Check out the latest prices and reviews at Booking.com *
Check out the latest prices and reviews at Agoda.com *
Gili Air
If you are looking for more of a local bungalow style and homestay kind, stay at Gili Air * , where you can find the ultimate peace and quietness of village life.
Manusia Dunia Green Lodge
This quaint and rustic design lodge will transport you back to the days of yore. Dreamlike but clean with traditional Indonesian hut designs, the place is cozy and inviting, with little touches of art too. Just outside is the tranquil village of the island. A home away from him, prices starting only from 70 USD!
Check out the latest prices and reviews at Booking.com *
Check out the latest prices and reviews at Agoda.com *
---
What and where to eat in Gili Islands
As quite popular beach getaways for tourists, you will find the usual beach food fare at small cafes in the form of a hut, such as barbecued fish and seafood, pizzas, sandwiches, smoothies, and so on; I think you get the drill if you haunt beaches enough. In some of the more prominent establishments, there can be a surcharge of taxes, so take note. Gili Trawangan, the party island, would be your best bet if you want to have drinks.
How to the Gili Islands
Flying directly from Jakarta to Gili Islands is the quickest way to get here. Else you may do a stopover flight at Surabaya. Flights to Gili will land you at Mataram or Senggigi, where you may cross to the Gili Islands via ferry.
If from Bali to Gili Islands, you may take a fast boat from Bali to Gili Trawangan *. Or you can also fly from Bali to Gili Islands, which many travelers say is worth it to save time, and sometimes it can be cheaper than the boat. Airlines that fly this route are Merpati, Indonesia Air Transport, and Trigana.
Travel Tips to Lombok and Gili Islands
Some other islands in Indonesia also have the name Gili, for, in the local dialect, it means small islands, so don't mix up and make sure you are coming to these three Gili Islands.
Many travelers are advised to be especially careful of thefts in Lombok. Keep your things well attended and lock your luggage; there are even thefts at the beaches. Also, bring repellant as there are cases of dengue.