The Ultimate Guide to Maumere, Flores
Maumere, Flores is a charming coastal city on the island's northeastern coast in Indonesia. It serves as the gateway to explore the natural beauty and cultural heritage of the Flores region. Maumere offers a unique blend of pristine beaches, vibrant marine life, and a rich cultural tapestry.
As the largest town in Flores, Maumere is probably not the most popular travel place. Still, it is usually an accidental drop-by because it is an alternative port to fly in to explore the rest of Flores.
Where is Maumere, Flores
Maumere is located on the northeastern coast of Flores Island in Indonesia. It is part of the East Nusa Tenggara province and is specifically situated in the Sikka Regency. The city is nestled between Maumere Bay to the west and the Flores Sea to the east. Maumere is approximately 670 kilometers east of Bali and can be reached by air or sea from various parts of Indonesia.
Why visit Maumere, Flores
Go off the beaten path and explore the local living of Indonesia the way of Flores, Nusa Tenggara. Hang around with the locals, visit fishing villages and markets, and also explore the local hot springs, caves, and beaches, all not exactly out to wow you but fun enough for the novelty of it. You will feel like the first explorer in these places.
Whether you are seeking adventure, relaxation, or cultural exploration, Maumere offers a captivating destination for travelers looking to explore the wonders of Flores Island.
Places to visit in Maumere, Flores
Watublapi Village
Take a trip to Watublapi Village, known for its unique traditional weaving techniques. Observe the locals creating intricate textiles (ikat cloth) using traditional methods and patterns. It is lightweight and suitable for souvenirs.
Wuring Fishing Village
Explore this traditional fishing village, where you can witness the daily life of the local community. Admire the colorful stilt houses and interact with friendly locals.
Bikon Blewut Museum
Visit this cultural museum to learn about the history, art, and traditions of the Sikka ethnic group. It houses a collection of artifacts, traditional textiles, and cultural displays.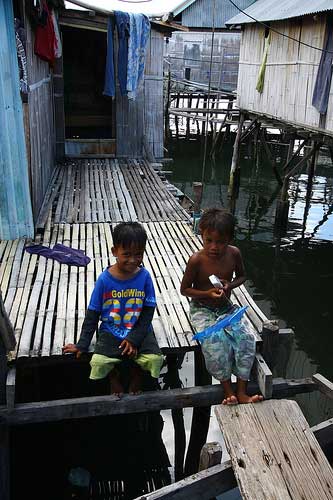 Things to do in Maumere, Flores
Uncover hidden, hot springs and caves.
Maumere in Flores, Indonesia, offers visitors the opportunity to explore unique hot springs and caves. Babi Island Hot Springs and Wairinding Hot Springs provide relaxing and rejuvenating experiences with warm, mineral-rich waters. Meanwhile, Liang Bua Cave, famous for the discovery of the Homo floresiensis, offers a glimpse into prehistoric times.
Additionally, the Goa Maria Cave is a religious site of significance for Catholics. These natural attractions provide diverse experiences, allowing visitors to connect with the region's geothermal features, cultural heritage, and intriguing history.
Chill and relax at remote and discrete beaches
Ahuwair and Waiterang Beaches – more popular relaxing beaches with few bungalows. Chill out off the grid with limited electricity and internet. There are diving and snorkeling choices here.
Gading beach – for less crowd (of the already little crowd) with its black sand beach, but the sea is too rough for snorkeling.
Ria Beach – Relax and unwind on the white sandy shores of Ria Beach. Swim in the crystal-clear waters, soak up the sun, and enjoy a peaceful beach experience.
Koka Beach – Located a short drive from Maumere, Koka Beach is a beautiful stretch of golden sand surrounded by turquoise waters. Enjoy swimming, sunbathing, and marveling at the impressive rock formations.
Climb Gunung Egon
This is an active volcano with a summit of 5.5km and a peak seen from Watering Beach. Start at the small village of Blidit, the beginning of the hiking trail. It can be climbed in 3 hours. Remember to slather in a generous amount of sunblock; start early in the morning if possible.
Dive
Scuba diving here is remotely beautiful, and you can even have a chance to see the whales and dolphins, which are ubiquitous here. The best times to spot sperm whales are during November and December monsoons.
Take a dip at Paga Waterfall
Visit Paga Waterfall, a picturesque waterfall surrounded by lush greenery. Take a refreshing dip in the natural pool or enjoy the serene ambiance.
Visit Wawo Muda Lake
Venture to Wawo Muda Lake, a volcanic crater lake known for its vibrant colors. Take in the stunning views of the turquoise lake and the surrounding hills.
Best Hotels in Maumere, Flores
There are several accommodations to choose from here relative to Flores. Choices range from backpackers to mid-range hotels. The two popular places to stay here in Mauere that provide rooms in huts by the beach plus diving activities are Budi Sun Resort and Sea World Club Beach Resort *.
Coconut Garden Beach Resort – Best
This beachfront resort offers a tranquil and tropical retreat for visitors. The resort provides comfortable accommodation with various room options, including bungalows and cottages, amid lush coconut gardens. Guests can enjoy direct access to the beach, relaxing, swimming, or engaging in water activities. The resort also features a restaurant serving delicious Indonesian and international cuisine, a swimming pool, and a range of amenities to ensure a pleasant stay.
Check out the latest prices on Agoda.com *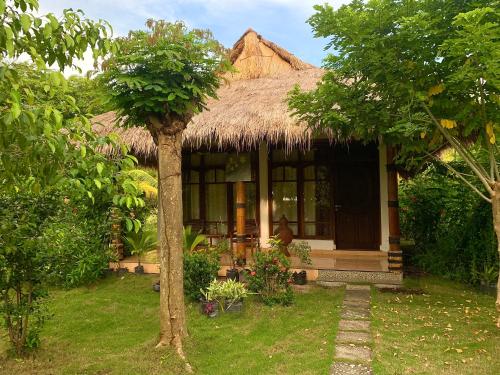 Budi Sun Resort Maumere is a charming beachfront resort in Maumere, Flores. The resort offers comfortable accommodation with various room options, including bungalows and villas, all with modern amenities. Guests can enjoy direct access to the beach, relaxing, swimming, or engaging in water activities. The resort also features a restaurant serving local and international cuisine, a pool, and a relaxing spa. Budi Sun Resort Maumere provides a peaceful retreat for travelers seeking a serene beachside getaway in Maumere.
Check out the latest prices on Agoda.com *
Check out the latest prices on Booking.com *

How to get to Maumere, Flores
Flights
Fly into the Wai Oti Airport (Bandar Udara Wai Oti), more commonly known as the Maumere Airport. Several airlines operate flights to Maumere from major cities in Indonesia, such as Jakarta, Bali, Surabaya, Kupang, Sumba, and Labuanbajo. You can check for flights with airlines like Garuda Indonesia, Lion Air, or Wings Air.
It lies 3 km from the town, and you may hop onto any ojek (motorcycle taxi) to get to the town center for about 5000Rp. Regular flights are from Kupang, Sumba, Labuanbajo, and Denpasar (Bali).
Pelni Boat / Ferry
You may sail on one of the local Pelni boats into Maumere from Makassar, Surabaya, and Kupang. Frequency is about every 2 weeks but with no fixed schedule. Therefore, you need enough time and ad-hoc planning to work it out when you are there. Tickets can be bought at the Pelni office in town.
Bus
If you are coming by bus, on one of the rare occasions, you can get a bus from Bajawa but with a long drive of 15 hours. You can get in/out or to/from Labuanbajo by bus, with a stop in Bajawa for 1 night. There are also buses between Moni and Ende that stops at Maumere.
Where to go nearby
Bali (fly to Denpasar airport) for the many things to see in Bali,
Lombok and Gili Islands – can also be accessed via Bali or Labuanbajo
Makassar – take a pelni boat over to continue and discover Sulawesi from there
Labuanbajo (Labuan Bajo) – for diving, snorkeling, and many beautiful islands and beaches
Komodo National Park – to see the famous Komodo dragon. You can get there by land or air.
The famous tri-coloured lake at Gunung Kelimutu in Flores
Photo credits from top: Burmesedays and the rest Gabriel