The Ultimate Guide to the Mentawai Islands, Sumatra
The beautiful Mentawai Islands are a small archipelago that sits off the west coast of Sumatra in Indonesia. They are famous for their surfing conditions, being one of the top 10 surf spots in Indonesia. It even rivals those found in the surfer's paradise of Bali.
As such, many surfers come to the Mentawai Islands after the surf season in Bali has finished. But surfing is not the only activity on offer here. Many of the islands provide delightful trekking opportunities, fishing, and snorkeling. If none of these appeals, you can relax on beaches or learn more about Mentawai culture.
The waves, turquoise sea, incredible underwater scenery, the best resorts, quiet and serene locations, virgin forests, tasting different foods every day, endemic animals, tattoos, and having adventures by staying and living like a Native Mentawai Tribe will set you up for an unforgettable holiday.
Where are the Mentawai Islands
The Mentawai Islands are located around 150 kilometers off the west coast of the island of Sumatra. They consist of Pulau (island) Siberut, Pulau Sipura Pulau Pagai-utara and Pulau Pagai-selatan. To visit here, you must first go to Padang in West Sumatra before journeying by boat.
The Mentawai archipelago has four large islands: Sipora Island, Siberut Island, South Pagai Island, and North Pagai Island. Each spot has natural beauty with different advantages and characteristics.
Why visit the Mentawai Islands
If you are a surfing enthusiast, the Mentawais offer some of the best surfing in the country. These islands will not be missed as part of your more comprehensive surf trip in Indonesia. On the other hand, the Mentawais still offer you the chance to see a far less touristy side of Indonesia, with a fascinating culture that many visitors don't get to see.
With relatively good travel links to Padang, the Mentawais are also relatively easy to visit, especially for intrepid travelers looking for adventures a little off the beaten track.
Best time to visit the Mentawai Islands
The best time to visit the Mentawai Islands is after the rainy season, which starts around November or December and runs until approximately March or April. It can rain every day during this time, and if you want to spend time surfing or sunbathing, this can be a rather damp time to visit.
Months like September and October are good picks as the weather is pleasant, and this is also the low season after the summer holidays and before the winter rush for Christmas and New Year.
Flight tickets and accommodations are often discounted during this time. The general best time to visit the Mentawai Islands is during the dry season of May to October.
Places to visit in the Mentawai Islands
The Mentawais are islands of sand and surf, so bear in mind that most of the things to see here are focused on beach life.
Siberut Island – the biggest of all the islands and where most of the population lives. Most of the island has tropical rainforests, so it is a UNESCO reserve. It is also the spot where you will find Siberut National Park, where you can go trekking and explore these islands' unique flora and fauna.
Sipora Island – If you want to see a more developed side of the Mentawais, head to Pulau Sipora. It is the home of the 'capital' city of the Mentawais called Tua Pejat. The local government offices are also located here and are the urbanest of all the Mentawai Islands.
Pagai Islands – separated into Pulau Pagai Utara in the north and Pulau Pagai Selatan in the south. Travelers hardly make it out that far, but you can charter a boat and cruise around the waters here if you want to explore further.
Mentawai Islands Tourist Attractions
Beaches
Mapadegat Beach and Jati Beach are located in Tuapejat. But local tourists prefer Jati Beach because the budget is more friendly. Nang Nyang Beach on Siberut Island and Siruso Beach on Siruso Island are exciting choices.
Tourist Villages
"Back to Nature" is the right term for tourists who want to recharge their minds by taking a package to spend some time living with the Mentawai native tribe in a large house called Uma. Tourists prefer Matotonan village to visit, located within Siberut National Park. 
The special ceremonies and activities you will get at the Mentawai tourist villages are:
Traditional Dance
One of the traditional dances is "Turuk". Turuk is a healing ceremonial dance involving Sikerei or Shaman.
Hunting Activity
Hunting is a favorite of the Mentawai Native tribe.  Here, you will learn how to mix arrow poison and participate in archery and catching fish competitions.
Rituals
The Eneget ceremony is one of many rituals when a boy enters adulthood. The child is equipped with arrows and bows to participate in hunting. Traditional ritual ceremonies are usually performed once a year during the full moon.

The Mentawai tribe believes in Sabulungan; they believe that forests, plants, and animals have spirits and souls; when spirits are not well cared for, the spirit can bring bad luck and the appearance of disease. 

The South Pagai area is also called Sikerei Earth because the people of the tribe can treat the sick by summoning the spirits of the Mentawai Shaman, who is commonly called Sikerei
Tattoo
The Mentawai native tribe has a unique Tattoo named Tatto Titi. Tattoo Titi is the art of painting on the skin. The Mentawai native tribe has a philosophy about a tattoo; tattoo is like an eternal fashion that can be brought to death for the Mentawai tribe. These tattoos serve as an identity and differentiation of social status in society. Stones, animals, and plants in the Mentawai people's tradition become immortalized objects in their bodies.  The person who makes tattoos is called Sipatiti.
Teeth Grinding Tradition
Sometimes also known as Mentawai teeth sharpening, as Mentawai tribal women, you have to have your teeth rimmed for beauty standards. However, the toothpick tradition has already begun to be abandoned by them. 
Siberut National Park
If you plan to spend time and like to do hiking and love to see the kind of endemic animals, this is the place! You will meet Siamang Dwarf (Bilou), Lutung Mentawai, a Mentawai Ape (Bokkoi), and Pigtail Monkey called Simakobu.  Located in Siberut Island, Kepulauan Mentawai regency,West Sumatra.
Waterfalls
Mentawai has Pujujurung waterfall on Sipora island and Simatobat waterfall on South Pagai island, which can be spot objects for camera shots or bathing.  Feel the freshness and clarity of the water. If you are lucky, you will see Bilou and Bokkoi. 
Things to do in the Mentawai Islands
If you like islands and beaches, you will find much to do on the Mentawais.
Surfing
Surfing is the top activity here, with consistent surf breaks. Some popular surfing spots here are E'bay, Beng-beng, Nipussi, and Pitstop. You can get many islets and flawless reefs with sun-blue waters, offshore winds, and spitting tubes here.
The best time to surf is April to October, when the Indian Ocean produces large and consistent waves during those months. If you are not a surfer, but you want to learn how to surf, don't worry.  Some resorts provided surfing study classes for the beginner. Mentawai has waves of all shapes and sizes, with 32 surfing surf spots.
Fishing
If you like fishing and want to feel the thrill of shouting "strike" and enjoying freshly barbecued grouper fish meat, choose Siruso Beach in the village of Taikako, Sikakap, Kepulauan Mentawai Regency, West Sumatra. The usual fishing using a rod or spearfishing using a spear gun are both popular on the Mentawais. You will find a huge number of fish living in the shallow reefs around the islands.
Snorkeling
Snorkeling is also a great activity on the islands, and the visibility here is excellent, so be sure to bring an underwater camera for snorkeling. You can rent snorkeling equipment easily from many guest houses and hotels.
Some resorts have a complete packet for those of you who prefer snorkeling. WavePark Resort is one of them. No need for a boat; you can enjoy the seabed and coral reefs directly from the resort. The coral reefs have many caves that you can pass. Other spots can be accessed by boat.
Trekking and hiking
For anyone who prefers to stay on dry land, these are the best activities to do on the Mentawai Islands. There are treks to suit all levels of ability, and you can either take a guided tour that lasts for a full day or go for an easy hike independently for a few hours. One of the popular trekking places is the Siberut National Park.
Shaman traditional ceremony
If you are looking for a bit of local culture, make sure not to miss out on this. The indigenous people of the Mentawais are the Sikerei tribe. You will find this traditional performance information in hotels and island guest houses.
Other things to do on the Mentawai Islands
Yoga – accompanied by an instructor, you and others in the group can do Yoga and meditation.
Jacuzzi – enjoying a Jacuzzi with a sea view through the window is nice and relaxing.
Volley Beach – playing Volleyball with some resort staff in the afternoon while waiting for the sunset is a must-try activity.
Canoeing or Kayaking – there are several locations in Mentawai beach where the waves are calm enough to spark the idea of spending the day canoeing.
Renting a boat – going around Mentawai with a rented boat is a way to enjoy the natural beauty of the Mentawai.
Mentawai Islands Resorts and Accommodation
The most places to stay on the Mentawai Islands would be the big island of Pulau Siberut *. You may also find some remote and luxurious choices at Sipora Island, for example, the Simakakang Villa *.
Staying at a friendly resort is a must because you need at least a week to enjoy this island. Here are some of the best places to stay on the Mentawai Islands.
A serene and luxurious escape in the Mentawai Islands. Pristine beaches, stunning ocean views, and rejuvenating amenities await guests in this exquisite resort. Awera Resort and Spa is located on Siberut Island.
Check out the latest prices on Agoda.com *
Check out the latest prices on Booking.com *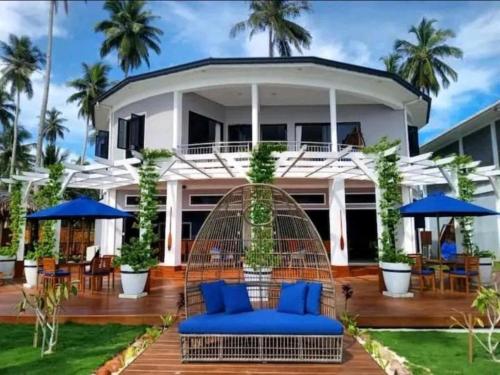 Discover this enchanting resort, where guests can indulge in pristine beaches, tropical gardens, and a range of amenities for a memorable stay. There are things to do, like swimming, snorkeling, fishing, and canoeing. Nasara Resort is located on Sipura Island.
Check out the latest prices on Agoda.com *
Check out the latest prices on Booking.com *
Crows' Nest – Midrange
Experience a unique stay at this elevated retreat, where panoramic views and cozy accommodations blend seamlessly for an unforgettable escape. Crows' Nest is also located on Sipura Island.
Check out the latest prices on Booking.com *
Arthur Homestay Telescope – Budget
Stargazing adventures in the Mentawai Islands. Explore the cosmos from this exceptional homestay equipped with a telescope, offering unparalleled opportunities for celestial observations and awe-inspiring nights under the starry sky.
Check out the latest prices on Agoda.com *
Check out the latest prices on Booking.com *

Kandui Beach Villas
Kandui provides a family room with two big beds in each room and uniquely has the facilities of a Mentawai tribal traditional house, namely Uma. The price is 7 million IDR per night. Staying in Kandui, you will get benefits with surf packages to the four best spots in Mentawai, around Kandui Villas, Nyang-Nyang Island, Mainuk Island, and Karangniki Island. Located in Karangmajat island, Kepulauan Mentawai Regency, West Sumatra.
Macaroni Mentawai Surf Resort
Macaroni is perfect for those who want to go surfing while looking for tranquility, especially for couples who wish to have a honeymoon. Some activities can be done, such as boat rides around the island, being a fisherman, snorkeling, enjoying a spa with great views, free wifi 24 hours, and hot springs. The room rate is 2,000,000 IDR per night.
Aloita Resort
If you want to get to the Aloita resort, you can rent a local fishing motorboat, which only takes 15 minutes from the dock of Tuapejat port. The room rate is 1.700.000 million IDR per night. Aloita Resort has a limited number of rooms. You must book one month in advance if you are interested. The place is excellent for swimming and snorkeling.
What to eat at Mentawai Islands
Getting around won't be perfect if you don't try to taste traditional foods. The choice is yours whether you want to eat extreme or delicious traditional cuisine.
Rendang Padang had been tried and cooked by "The Jury of Master Chef" Gordon Ramsey when he visited West Sumatra a few years ago.
Toek Ulat Kayu and Batra Ulat Sagu are extreme foods because they are based on worms or caterpillars. This food is consumed with sago. Tourists like Batra Ulat Sagu a lot when eaten raw.
Itik Lado Muda (processed duck meat), Dendeng Balado (thin beef), Sikoira (a type of white shellfish) and Anggu (endemic crab) are recommended cuisines to try.
How to get around Mentawai Islands
The Mentawai Islands are easy to get around. You may be able to walk around on foot if you are going from your guest house to the beach. However, if you want to explore further, renting a scooter or bicycle is a good idea, which can be easily arranged from a local hotel or guest house.
How to get to Mentawai Islands
Jakarta to Mentawai Islands
From Jakarta, you will have many flight options to get to Minangkabau international airport in Padang City with one and a half hours of flight time. Once you land at Minangkabau Airport, you can use trains, Damri (airport-specific transportation), and taxis to get to the center of Padang City. You have to spend the night at Padang City before continuing to Mentawai. You need a little effort to get there, but it is worth it!
Padang to Mentawai Islands
Choosing a hotel or lodging near Muaro Padang port would be more comfortable because the Mentawai Fast Ferry departs at 7 am and needs 4 hours before arriving at Tuapejat port. There is also a charter Ferry called 'D-BoraSurf Charter' as an option. You can save money using KMP Ambolo, KMP Ambu, and KMP Sumber Rezeki. They will depart at night with 11 hours of travel time. These ships have routes to Tuapejat, Siberut, and Sikabaluan.
Bali to Mentawai Islands
You will first need to fly to Jakarta from Bali and then follow the steps above from Jakarta to Padang and then onwards to the Mentawai Islands.
Where to go nearby
Padang – a coastal city with Dutch colonial buildings and fishing boats
Pekanbaru – the capital of Riau and well known for its modernity and cleanliness while maintaining many of its unique heritage architectures.
Travel Tips to the Mentawai Islands
Bring mosquito repellant; it is a jungle, after all! If you are trekking through the tourist villages, you will be grateful to have your sleeping bag. And quite like the backpacker style through any native village, do not forget the toilet paper!
Travel Tips:
1. Book the best accommodations – Booking.com* or Agoda.com *
2. Find the cheapest flight options that suit you – Skyscanner * or 12Go.asia *
3. Rent a car in advance and make your trip more convenient – Rentalcars *
4. Make the most of the time that you have! Exciting excursions, professional guides, and more – Klook *
5. Book your train tickets online easily – Tiket.com * or bus tickets at Easybook.com *
6. Oder ahead Indonesian Rupiah with the best exchange rate – Wise Travel Card *