Nusa Lembongan is tucked away in Indonesia, despite being relatively unknown to tourists, it has lots of things to do and beautiful places to stay.
Whether you're looking for amazing surf, stunning views or just some downtime, Lembongan is the perfect destination. Nearby Nusa Ceningan is definitely worth a visit, too.
-> Jump to Where to stay in Nusa Lembongan
Ride around and explore Nusa Lembongan
You can easily rent a moped and zip around the island. I'd definitely suggest doing this for a day if you can, as there is so much to see and explore. Half of the island's charm, for me, at least, were the hidden spots; the places with no names. One of the joys of traveling is finding your own way, so hop on a bike and ride until you want to stop. There are some modern roads here that are great for beginners. Build up your confidence and head up the hills, along dirt paths and between towering trees to find the best views over the island. Make sure you have plenty of petrol before you head off on an adventure. There are plenty of roadside spots to fill up at – keep an eye out for old alcohol bottles full of yellow liquid! It is also polite to return your bike with at least half a tank left, so bear that in mind when you're riding home.

Drive on to Nusa Ceningan
This nearby island is pretty tiny, and very beautiful. It is home to great diving, yoga studios and plenty of nature to immerse yourself in. Take the bridge across from Lembongan and explore by moped. Not all of the roads here are perfect, but that just adds to the fun. Friendly locals will point you in the right direction of the main viewpoint here, so make sure your camera is fully-charged and heap on up and up.Blue Lagoon is one of the most stunning little bays you will ever see, with bright aqua water. Make time to visit this spot and bask in the glory of nature here. Secret Beach in Nusa Ceningan is likely to be empty, unsurprisingly, and offers great snorkelling and swimming water.
-> Read Guide to Nusa Ceningan – What to do and Where to Stay

Amazing view and sunset at Devil's Tear, Dream Beach
This is a stunning area of natural beauty right near Dream Beach. Expect lots of tourists but don't let that put you off. This can be a dangerous area, so pay attention to the warning signs and be sensible. The Devil's Tear itself is a little inlet into the land where waves get sucked into holes in the cliff face. They are then jetted out and shoot up into the air and across the cliff. Don't get too close, but make an effort to visit this spot. The power of the waves here is stunning. Just a few minute's walk from here is the best sunset spot on the island. Rocky cliff juts out into the ocean and gives you a stunning view of the island, as well as all the colours in the sky.
Outdoor activities at Nusa Lembongan and Nusa Ceningan
Surfing at Nusa Lembongan
Lembongan is famed for its surfing, and the beaches here are truly designed for it. The waves around the island are generally for the more experienced surfer, but there are some good beginner beaches, too. Playgrounds is the ideal beach for surfers and gets busy without being crammed. Head to Coconut Bay and paddle out from here to the waves. You can rent boards and have surf lessons here, too. Dream Beach isn't for swimming but is a lovely beach to hang out at. The surf can get pretty good here as well, and is better suited to experienced surfers. Head over to Ceningan for great breaks, too! Wherever there are good waves, there'll be a shack on the beach with boards to hire out.

Stand-up Paddle Boarding at Mushroom Bay
Stand-Up Paddle Boarding is such a fun activity, and this island has some amazing beaches to try it out at. Some waves tend to be too strong or high, and these beaches tend to be reserved for surfers. If you fancy a swim, snorkel or SUP session, head to the calmer beaches. Mushroom Beach is the place to head for a relaxing afternoon of lazing on the beach and trying out water-sports. This is a really easy beach to get to and is surrounded by cute restaurants and road-side warungs (local eateries). Expect some tourists here, but don't worry about it being crowded. Hire out a paddle board from one of the stalls on the beach, just don't forget your sunblock!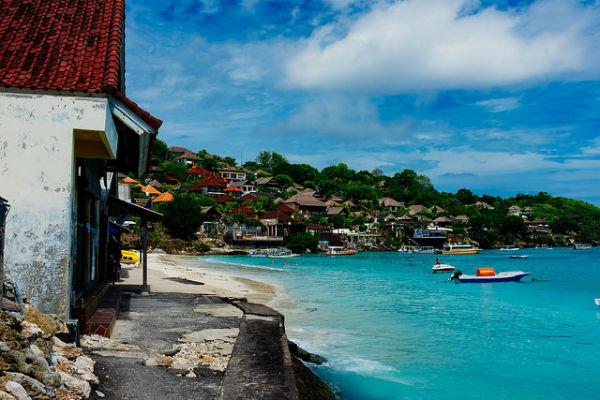 Diving at Nusa Lembongan
Indonesia's underwater world is beyond beautiful and is peppered with stunning marine life, including majestic turtles and colourful coral. Diving is one of the best things to do here, and the island's schools cater to all levels of experience. Get up early or spend an afternoon diving amongst the island's oceans. The dive sites around Lembongan are full of amazing underwater marine life, such as manta rays, which people travel here just to see. Diving is taken seriously, and there is a duty to the dive centres to be professional and respectful of the waters. Nusa Ceningan also offers beautiful underwater views and great diving opportunities.

Cliff Jump
Don't attempt this on your own! Make sure you go with a company who know when and where it is safe to go out, and who will look after you. Cliff jumping is one of the most exhilarating things you can do in Nusa Lembongan, and is the ideal way to spend an afternoon if you're an adrenaline junkie. You'll basically jump off a cliff into the ocean and can snorkel and swim to your heart's content in lovely, clear waters. You can find companies that offer this in Lembongan, and some that will take you to Ceningan. Lembongan Cliff Jumping comes very highly recommended, and offer a number of packages for those seeking adventure.
Fly High
Abyss Zipline company over in nearby Ceningan offer one of the most fun activities around! If you fancy zipping through nature and taking in stunning views of the island, add this to your to-do list. The staff here take safety very seriously, which is good considering you'll be swinging across the ocean! Make time to head here and reward yourself with a dip in their infinity pool afterwards.
Relax and unwind at the Nusa Islands
Massage
Take some time to really relax and make the most of the local spas. They may not be big or fancy, but they'll be full of local ladies who'll pummel the knots out of your back. Traditional Balinese massages can get pretty heavy but will do wonders for a well-travelled body.The prices of massages here tend to be very low. Despite being on a small island, prices haven't been driven up by tourism too much. Grab yourself a bargain and get some me-time in.

Yoga
If you fancy taking some time out from all the water-sports and hiking, head to a yoga studio and chill out. The studios here tend to be pretty affordable, and there's a really lovely, relaxed vibe to the island, in general, that's reflected in the studios. Many of the studios here offer amazing views over the ocean, or are set up in the forest. Either way, you're guaranteed a beautiful experience!
What to Eat at Nusa Lembongan
The food here tends to be pretty local, although there are some lovely Western joints. Head to the beach for fresh seafood, or wander down side alleys to get an authentic experience. Indonesian food focuses on fried rice (nasi greng), fried noodles (mie goreng) and tasty curries. Desserts aren't huge here, but make sure you try banana pancakes at least once while you're on the island. They're pretty popular across Indonesia and are delicious!
---
Where to Stay on Nusa Lembongan
Most popular place to stay here on Nusa Lembongan is this beachfront resort Batu Karang Lembongan Resort and Day Spa *. These spacious beachfront villas come with its own pool and spa services.
For those who are looking for villas with a good environment for family, Jingga Villas * is the place, with its own pool and just a minute walk to the beach. Its services are also well rated by guests.
A good mid range choice here is Sunset Garden Nusa Lembongan * at Mushroom Bay with beautiful garden and sunset view. Just 9 minutes walk from the beach, the price from just 89 USD is well worth it!
If you are looking for a more cozy environment, The Akah Cottage, only 3 minutes walk from the beach, is the place for you. It comes with bike rental facilities and an outdoor pool. It is also good for value with prices starting only at 35 USD. Water Blow Huts * is another well-loved choice in this range to stay near Dream Beach in Lembongan.
Related articles:
Nusa Ceningan, Bali – Guide and Accommodations
Nusa Dua Bali – Accommodations and things to do
Top 10 Things to do on Nusa Penida
Top 10 Best Beaches in Lombok