Guide to Surabaya, East Java
Surabaya is the second largest city in Indonesia, and though not necessarily a popular place to travel to, it is an essential gateway to many attractions in Java, Indonesia. That is why Surabaya tourism is still one of the tops in Indonesia after Jakarta being an important international hub and Mount Bromo and Bali. This guide is to help your travel to Surabaya, East Java, and discover what it has to offer.
From its rich history to its bustling markets, from its iconic landmarks to its culinary delights, Surabaya is a city that has something for everyone. Whether you're a history enthusiast, a nature lover, or a foodie, Surabaya will captivate you with its unique blend of tradition and modernity.
Where is Surabaya
Surabaya is located in East Java, north of Mount Bromo and west of Bali. It serves as the capital of the East Java province and is the second-largest city in Indonesia. Positioned strategically along the Java Sea, Surabaya boasts a bustling port that has contributed to its reputation as a significant commercial and industrial hub. With its vibrant urban landscape, rich cultural heritage, and proximity to stunning natural attractions, Surabaya offers visitors a captivating blend of modernity and tradition to explore and enjoy.
Why visit Surabaya, East Java
Instead of flying into Jakarta, Surabaya is an excellent springboard to places in Java like Yogyakarta, Dieng Plateau, and Mount Bromo; you may also fly or take a train and then boat to Bali and Lombok from here.
Besides that, Surabaya boasts a vibrant blend of history, modernity, and cultural diversity. Explore its rich past by visiting iconic landmarks like the historic House of Sampoerna and the majestic Suramadu Bridge. Immerse yourself in the local culture at the colorful Arab Quarter or the bustling traditional markets. Surabaya is also a gateway to breathtaking natural wonders, such as Mount Bromo and the enchanting island of Madura. With its dynamic atmosphere, friendly locals, and a wide range of attractions, Surabaya promises an exciting and unforgettable travel experience.
Things to do in Surabaya
Walk around Wisata Mangrove – Immerse yourself in the serene beauty of the Mangrove Tourism Park.
Visit Surabaya Zoo – Explore the fascinating world of wildlife at Surabaya's renowned zoo.
Chill at Surabaya Beach – Relax and unwind at the picturesque Kenjeran Beach.
Refresh yourself at Hutan Bambu Surabaya (Surabaya Bamboo Forest) – Reconnect with nature in the peaceful surroundings of Surabaya's Bamboo Forest.
Take the Majapahit Hotel Heritage Tour – Step back in time with a guided tour of the historic Majapahit Hotel.
Shopping in Kampong Arab – Discover a vibrant marketplace and indulge in traditional shopping in Kampong Arab.
Take pictures in Kampong Bulak – Capture Instagram-worthy photos in the charming setting of Kampong Bulak.
Take a look at Suro & Boyo Statue – Marvel at the iconic statue that represents the legendary figures of Suro and Boyo.
Ride a trishaw around Surabaya city – Experience the city's charm and vibrancy on a trishaw ride through Surabaya's streets.
Visit the Monkasel (Submarine Monument) – Explore the fascinating submarine-turned-museum and learn about Indonesia's naval history.
Enjoy the sunset at Suramadu National Bridge – Witness a breathtaking sunset while admiring the impressive Suramadu National Bridge.
Connect with Surabaya Heritage at Tugu Pahlawan (Heroes Monument) – Pay tribute to Indonesia's heroes and delve into Surabaya's rich history at the iconic Tugu Pahlawan.
Best Hotels in Surabaya

Surabaya, a bustling city in Indonesia, offers exceptional hotels catering to discerning travelers. From luxurious five-star properties with stunning amenities to boutique hotels with unique charm, Surabaya has options to suit every preference.
Luxury (from 100 USD)
Hotel Majapahit Surabaya
Indulge in an unforgettable stay at Hotel Majapahit Surabaya, where history and luxury intertwine. This iconic five-star hotel invites you to immerse yourself in a world of colonial charm and modern elegance. From meticulously designed rooms to a tranquil spa and exquisite dining options, Hotel Majapahit Surabaya offers an enchanting escape. Immerse yourself in the city's rich heritage while basking in opulent surroundings, and let the attentive staff cater to your every need. Embark on an unforgettable journey where luxury and sophistication meet, making Hotel Majapahit Surabaya the ultimate destination for a remarkable stay.
Check out the latest prices on Agoda.com *
Check out the latest prices on Booking.com *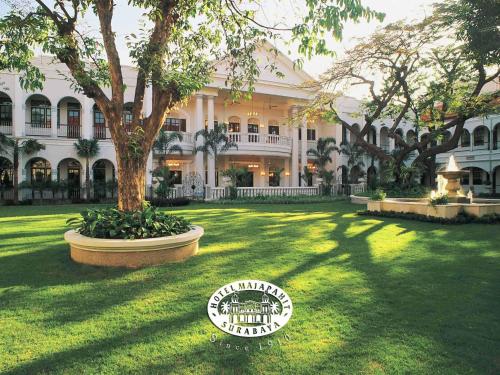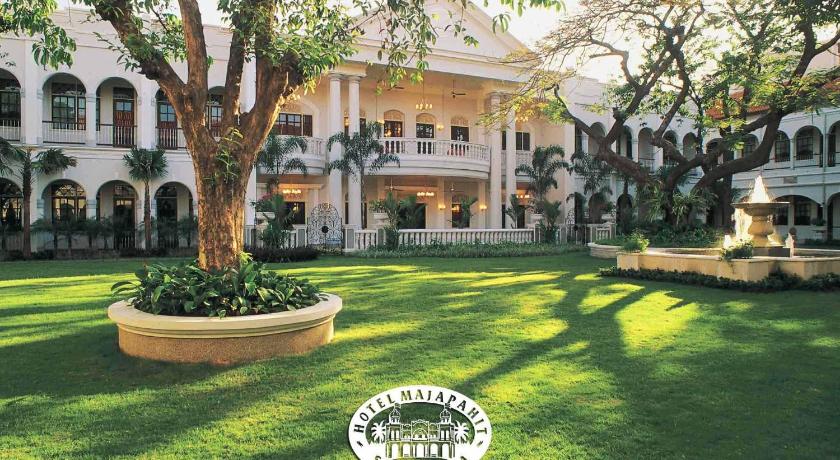 JW Marriott Hotel Surabaya
Experience pure luxury and unparalleled hospitality at JW Marriott Hotel Surabaya. From the moment you step into this exquisite five-star hotel, you'll be captivated by its elegance and attention to detail. Indulge in spacious and beautifully appointed rooms, savor delectable culinary delights at the multiple dining venues, and rejuvenate your senses at the state-of-the-art spa and rooftop pool with breathtaking city views. With its central location and world-class amenities, JW Marriott Hotel Surabaya is the epitome of sophistication and offers an unforgettable stay that will leave you wanting for nothing.
Check out the latest prices on Agoda.com *
Check out the latest prices on Booking.com *
Sheraton Surabaya Hotel & Towers
Experience the epitome of luxury at Sheraton Surabaya Hotel & Towers. This five-star hotel welcomes you to a world of contemporary design and warm hospitality. Immerse yourself in spacious and stylish rooms, indulge in delectable cuisine at the hotel's dining outlets, and unwind with various leisure facilities, including a fitness center and spa. Whether you're traveling for business or leisure, Sheraton Surabaya Hotel & Towers offers an exceptional stay that combines comfort, convenience, and impeccable service. Prepare to be pampered and create lasting memories at this prestigious Surabaya hotel.
Check out the latest prices on Agoda.com *
Check out the latest prices on Booking.com *
Mid-range (50 – 150 USD)
Vasa Hotel Surabaya
Located in the city's heart, Vasa Hotel Surabaya offers modern comfort and stylish design. With spacious rooms, contemporary amenities, and a rooftop pool, guests can enjoy a comfortable stay. The hotel also features multiple dining options, a fitness center, and easy access to shopping malls and attractions.
Check out the latest prices on Agoda.com *
Check out the latest prices on Booking.com *
Four Points by Sheraton Surabaya
Four Points by Sheraton Surabaya is a popular choice for midrange travelers seeking quality and convenience. The hotel boasts comfortable rooms, a rooftop pool with panoramic city views, and a fitness center. Guests can savor delicious meals at on-site restaurants and explore nearby shopping centers and entertainment venues.
Check out the latest prices on Agoda.com *
Check out the latest prices on Booking.com *
Budget (below 50 USD)
Super OYO Collection
In Surabaya, the OYO Collection offers budget-friendly accommodations without compromising on comfort. The Super OYO Collection in Surabaya includes a selection of affordable hotels that provide a reliable and pleasant stay. These hotels offer clean and comfortable rooms, essential amenities, and a convenient location at budget-friendly rates. The Super OYO Collection ensures that even budget-conscious travelers can enjoy a comfortable and hassle-free stay in Surabaya without breaking the bank. One of the popular ones is Super OYO Collection O 30 Amega Crown Sub *.
Check out the latest prices on Agoda.com *
Check out the latest prices on Booking.com *
How to get to Surabaya
Fly into Surabaya Airport – Juanda, the second busiest airport after Jakarta's Soekarno-Hatta Airport. International flights are flying here from Singapore, Kuala Lumpur, Penang, Bangkok, Hong Kong, and other places in Asia and Australia.
You may take the official taxi (Prima Taxi) from the airport to the town, about 18km away, at the cost of 7-10 USD.
If you want to get to Mount Bromo from Surabaya, about 70km away, you may hire a car or take the bus instead.
To get to the bus station (Bungurasih), you may take the Airport Bus Service, operated by Damri, at only 15,000 Rp. Note that the bus station is not near the city, and you may go there to catch connecting buses, such as Probolinggo (for Mount Bromo) or Malang.
Note that domestic departures airport taxes vary from IDR25 000 to 60 000 while international departures cost is 150, 000 Rp tax.
What to eat in Surabaya
In Surabaya, indulge in the following delectable dishes: Rawon, a black beef soup with rich flavors; Rujak Cingur, a unique salad with cow snout and shrimp paste dressing; Lontong Balap, rice cakes with tofu and lentho in a soy-based sauce; Soto Ayam, a comforting chicken soup; Tahu Tek, fried tofu with peanut sauce; Nasi Goreng Kambing, lamb fried rice; and Rujak Soto, a fusion of fruit salad and soup. Don't miss the street food stalls and traditional markets for a wider array of culinary delights.
Where to visit nearby Surabaya, East Java
Head to Mount Bromo, about 70 km away, and the time to get there is around 4 hours due to heavy traffic and congestion. On the way, you would pass Probolinggo town on the major highway across Java. Here is where most backpackers usually share a transport to take them to the Bromo Tengger Semeru National Park.
You can also visit Malang, just a 2-3 hours drive away for its beautiful landscape and cultural attractions, and mainly as a springboard to Mount Semeru and Mount Bromo.
Or take to the hills at Batu, for a refreshing and cooling getaway, about 3 hours away.
If you love history and culture, you may get to Trowulan, the capital of the Majapahit Empire in the 14th Century. Here you may find myriads of temples and some museums.
Head east to the famous Ijen Crater for a volcanic acid lake and blue fire.
Fly to Bali or Lombok, the most famous destination in Indonesia, to relax at the beach, immerse in the culture, and enjoy the food. You may also take the train to Banyuwangi and then boat to Bali.
Photo credits from top: Burmesedays, abdulrahman, batigolix and the rest abdulrahman