13 Best Things to Do in Surabaya
Nestled on the northeastern coast of the captivating Indonesian island of Java, Surabaya, Also
known as a "Kota Pahlawan" (Hero City), beckons travelers with its fascinating blend of historic
charm and modern vibrancy. As the second-largest city in Indonesia, Surabaya boasts a rich
cultural heritage, bustling streets, and many attractions that will captivate even the most
seasoned explorers.
Join us as we traverse Surabaya's attractions, offering a glimpse into the city's vibrant soul and
unveiling the unique experiences that await within its bustling streets. For that, we have
compiled the ultimate things to do in Surabaya, combining nature, history, and modernity for
an unforgettable trip.
Walk around Wisata Mangrove
Located in Wonorejo village, around 16 kilometers from Surabaya city center, Wisata Mangrove is likely the best natural place and one of the best things to do in Surabaya. It offers a long jogging track surrounded by mangrove trees, along with a coastal atmosphere that is very refreshing in the morning. The entrance ticket is only IDR 3,000 per person.
I recommend visiting the Wisata Mangrove very early. The air tends to be cooler and fresher in the morning. I've once come here a bit late, and the weather is rather hot due to the scorching sun.
The available jogging tracks here are made from bamboo, keeping the natural feeling of this forest-like area. A pavilion built from bamboo in the forest's center will allow you to rest and enjoy the scenery. Under the jogging tracks, the soils are like swamps, where you can find a lot of crabs, snails, and conch. Don't forget to bring your snacks and drinks when you enter this forest, because there are no food sellers inside the forest. The available food stalls are located nearby the entrance.
Visit Surabaya Zoo
Surabaya Zoo, called Kebun Binatang Surabaya (KBS), is an iconic city zoo. It feels incomplete visiting Surabaya without coming to this one. One of the most famous zoos in South East Asia, Surabaya Zoo is home to more than two thousand animals from more than two hundred different species, including rare species from Mammals, Reptiles, Aves, and Pisces.
The ticket to this Zoo is only IDR 15,000 for each person, including children above 85 cm. You can pay for the access via an e-money application or in cash via the ticket booths.
Chill at Surabaya beach – Pantai Kenjeran (Kenjeran Beach)
One of the things to do in Surabaya is chill at beaches, and who would have guessed for a city? As two of the best beaches near Surabaya, I recommend visiting them here – Kenjeran Beach: Pantai Kenjeran Lama and Pantai Kenjeran Baru.
Pantai Kenjeran Lama offers a more laid-back shore with a tender breeze to relax your mind and body. The waves here are not too big, so walking or playing along the seashore is relatively safe. You can rent a ship to enjoy this beach more. It's very cheap, with only IDR 20,000 for each adult. The ship will sail a short trip around the seashore.
As for the refreshment, you can enjoy culinary options not far from the beach. There are a lot of choices when it comes to eating on this beach. While enjoying the beach scenery, you can eat street foods and drink some soft drinks or various ice like Cilok (like meatballs, but less meat and more flour), Sempolan (fried flour shaped in bamboo stick with multiple flavors), Es Degan (Young Coconut Ice), Es Cincau (Grass Jelly Ice), Es Dawet (Ice Dawet), and many more.
Next is Pantai Kenjeran Baru. This new version of Kenjeran Beach is also called Pantai Ria Kenjeran or KenPark. The difference between these two beaches is more in the concept and the facility. While Pantai Kenjeran Lama (the older one) is more natural and less modern facilities, Pantai Kenjeran Baru offers more modern facilities and attractions without leaving its natural touch.
Unlike Pantai Kenjeran Lama, to enter Pantai Kenjeran Baru, you should pay an entrance ticket of IDR 15.000 per person. In Pantai Kenjeran Baru, many attractions are suitable for little children, like Water Park, riding horses, electric cars, Kereta Kelinci (rabbit train – small train to go around sightseeing), as well as new attractions with Chinese culture like Pagoda Tian Ti, Klenteng Sanggar Agung, and other unique architectural designs.
Refresh yourself at Hutan Bambu Surabaya (Surabaya Bamboo Forest)
Visiting Hutan Bambu, or Bamboo Forest, is one of the things to do in Surabaya. This new forest is located in the Keputih area, around 12 kilometers from Surabaya City Center.
This bamboo forest becomes another choice to refresh the body and mind after exhausting days of activities. It may remind us of Sagano Bamboo Forest in Japan. The beautifully lined bamboo trees offer this area a natural and relaxing atmosphere. The sun shines warmly along with the gentle wind.
Although called Bamboo Forest, the area has other parks like Taman Harmoni (Harmony Park) and Taman Ruang Publik (Public Park). Various flowers and bushes are planted to complete the forest's surroundings.
You can walk and take pictures with your loved ones, sit on the available benches inside the park, or play with swings and other rides provided by the forest's management. If you want to enjoy this forest, come during summer or spring, and avoid after rain because the grounds can get quite muddy.
Take the Majapahit Hotel Heritage Tour
Formerly known as Yamato or Oranje Hotel, this hotel has been stated as one of cultural heritage by the Surabaya City Government. This hotel holds many historical values of the hotel and Surabaya during the colonial era.
Today, the hotel management provides a heritage tour every day at 2 pm, arguably one of the things to do in Surabaya that you should not miss. The tour explains the history of the hotel and its role during Indonesia's independence. The appointed staff will take you to some historical parts of the hotel.
As the last attraction in this tour, you will be taken to the hotel's garden, which has a European style. Then, when you've felt tired enough, you can enjoy some refreshments the hotel provides, like tea or coffee with snacks. For this hotel tour, you must make a reservation first via telephone and pay IDR 100.000 per person.
Staying in Majapahit Hotel * while you are in Surabaya is also an excellent choice.
Check out the latest prices on Agoda.com *
Check out the latest prices on Booking.com *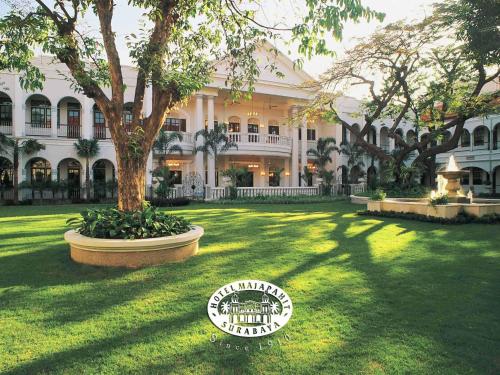 Shopping in Kampong Arab
Kampong Arab is located on Ampel Street. Just like the name suggested, this place is inhabited by society from Arabic descendants. The shops, food stalls, and restaurants all give Arabic vibes.
In this area, you can shop for items like perfumes, dates, raisins, and abaya or have some meals in Arabian restaurants that provide various menus like Nasi Kebuli and Nasi Biryani.
It is free to enter this Kampong Arab. You can go to this place anytime, but it's better in the evening as more food stalls are open, and the market comes alive then.
Take pictures in Kampong Bulak
A small village with colorful walls and roofs can also be found in Surabaya. Come to Kampong Bulak for a fun thing to do in Surabaya and enjoy this unique village nearby Kenjeran Beach. Here you can hunt various Instagramable spots and take a lot of pictures.
Immerse yourself in the kaleidoscope of colors as you explore Kampong Bulak's streets. Each corner reveals a new opportunity to snap an eye-catching picture against brightly painted walls and roofs. With its charming aesthetics and artistic ambiance, this village has become a haven for photography enthusiasts seeking that perfect shot.
Beyond its visual appeal, the village also offers a glimpse into the local way of life. Engage with friendly locals and learn about their traditions and customs, adding a cultural dimension to your visit. You may even have the opportunity to witness traditional activities or see artisans showcasing their crafts.
With only IDR 2000 for an entrance ticket, you can score amazing photos of various unique places inside the kampong (village) to post on your social media accounts.
Take a look at Suro & Boyo Statue
Your visit to Surabaya won't be completed without dropping by this iconic statue of Surabaya. The city's name itself refers to "Suro" (a kind of shark) and "Boyo" (a crocodile). People mostly come here to take pictures with the statue as the background. It's located nearby Surabaya Zoo, so couple this visit with the zoo outing.
You also come to this place freely. The best spot to take pictures of the iconic Surabaya statues would be via Skateboard Park.
Ride a trishaw around Surabaya city
Another exciting thing to do in Surabaya in a new way by hopping on a trishaw, the charming three-wheeled mode of transportation that captures the essence of this vibrant city. Riding a trishaw around Surabaya is not just a means of getting from one place to another but an exhilarating adventure. Feel the refreshing breeze on your face as you weave through bustling streets, passing by colorful markets, majestic temples, and historical landmarks.
Engage with your friendly trishaw driver, who will share fascinating stories and insights about the city's rich history and cultural heritage. Immerse yourself in the lively atmosphere, soak up the vibrant sights and sounds, and create memories that will last a lifetime. Riding a trishaw in Surabaya is an authentic and unforgettable way to explore the city, offering a unique perspective that will leave you with a sense of joy and wonder.
Visit the Monkasel (Submarine Monument)
Indonesia is known as a country with a sizeable maritime territory. Surabaya is one of the cities in the country famous for its harbor and maritime fleet. Monkasel, a submarine monument, has been established to commemorate the city's maritime heritage, welcoming the public to experience its significance. The operational hours of this place are between 8 am and 9 pm. The entrance ticket is only IDR 15.000 per person.
This submarine monument is recognized as the most extensive submarine monument in Asia. The monument is built from a submarine named Pasopati 410, which is a submarine from type SS Whiskey Class. It has a vital role in defending maritime law in Indonesia.
The monument has seven rooms, including the torpedo bow and diesel engine rooms. It is also equipped with a commander's room and crew room. Then there is also the main bridge and command center, which are close together.
Aside from the monument, the management also provides several other attractions, usually held on weekends. You can watch Reog Ponorogo (a traditional group dance) or go along the Kalimas River by motorboat. And, if you come with kids, you can also take them swimming in the children's pool in the area. This destination is located on Pemuda Street no—39, only 1.5 kilometers from the city center. You can contact the management via phone at 031-5490-410 or via e-mail at [email protected].
Enjoy the sunset at Suramadu National Bridge
A visit to the Suramadu National Bridge is a thing to do in Surabaya for travelers seeking breathtaking views and a sense of awe-inspiring engineering. Spanning the picturesque Madura Strait, this iconic bridge offers a unique opportunity to witness the seamless connection between Surabaya and the island of Madura. Whether driving across or simply taking in the panoramic vistas, the Suramadu Bridge provides a memorable experience and symbolizes unity and progress in Indonesia.
To enjoy the Suramadu National Bridge, there are a few options for getting there. If you're in Surabaya, you can take a taxi or a ride-sharing service to the bridge. Alternatively, you can hire a private car or join a guided tour that includes a visit to the bridge. Once there, take your time to walk along the designated pedestrian lane or drive across the bridge to fully appreciate the stunning views of the Madura Strait and the surrounding landscapes. Consider visiting during sunrise or sunset for a truly magical experience. Don't forget to bring your camera to capture the beauty of this architectural marvel and create lasting memories.
Connect with Surabaya Heritage at Tugu Pahlawan (Heroes Monument)
A visit to Surabaya's Tugu Pahlawan is one of the things to do in Surabaya if you are interested in history. This significant monument and its accompanying museum offer a powerful and educational experience, allowing visitors to gain insights into the Battle of Surabaya and the country's struggle for independence. The monument is a place of reflection, inspiration, and cultural significance, offering visitors a chance to connect with Surabaya's rich heritage and the heroic spirit of its people. To reach Tugu Pahlawan, you can take a taxi, ride-sharing service, or public transportation such as a bus or train.
Admire Masjid Nasional Al-Akbar Surabaya's stunning architecture
Surabaya National Mosque, also known as Masjid Nasional Al-Akbar Surabaya, is a remarkable religious landmark in Surabaya, Indonesia. You can take a taxi, ride-sharing service, or public transportation to visit the Surabaya National Mosque. With its stunning architecture and vast prayer halls, this grand mosque offers a serene and spiritual atmosphere. Visitors can admire the intricate design and beautiful interior, participate in prayer services, or find solace in the peaceful surroundings. The mosque serves as a symbol of religious tolerance and unity, inviting people from all walks of life to appreciate its beauty and experience the rich Islamic culture of Surabaya.
In conclusion, there are many things to do in Surabaya, boasting many interesting attractions. They will leave you enchanted and yearning for more. Indulge in mouthwatering culinary delights, shop to your heart's content, and immerse yourself in the vibrant local culture. Whether you're a history buff, a nature lover, an adventurer, or a food enthusiast, Surabaya promises an unforgettable journey filled with unique experiences. So pack your bags, embark on an exciting adventure, and let Surabaya captivate you with its warmth, charm, and endless possibilities.
Best Hotels in Surabaya

Surabaya, a bustling city in Indonesia, offers exceptional hotels catering to discerning travelers. From luxurious five-star properties with stunning amenities to boutique hotels with unique charm, Surabaya has options to suit every preference.
Luxury (from 100 USD)
Hotel Majapahit Surabaya
Indulge in an unforgettable stay at Hotel Majapahit Surabaya, where history and luxury intertwine. This iconic five-star hotel invites you to immerse yourself in a world of colonial charm and modern elegance. From meticulously designed rooms to a tranquil spa and exquisite dining options, Hotel Majapahit Surabaya offers an enchanting escape. Immerse yourself in the city's rich heritage while basking in opulent surroundings, and let the attentive staff cater to your every need. Embark on an unforgettable journey where luxury and sophistication meet, making Hotel Majapahit Surabaya the ultimate destination for a remarkable stay.
Check out the latest prices on Agoda.com *
Check out the latest prices on Booking.com *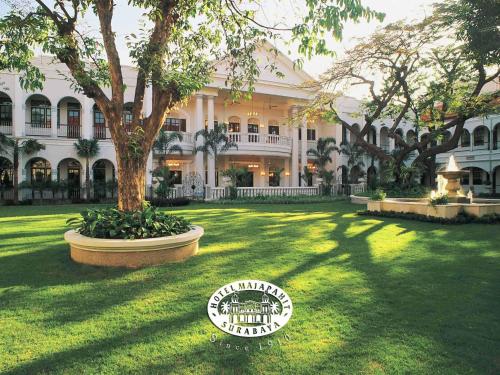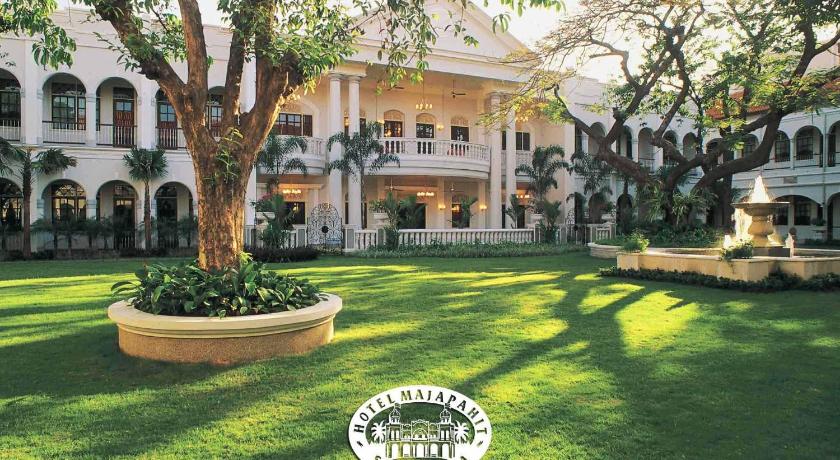 JW Marriott Hotel Surabaya
Experience pure luxury and unparalleled hospitality at JW Marriott Hotel Surabaya. From the moment you step into this exquisite five-star hotel, you'll be captivated by its elegance and attention to detail. Indulge in spacious and beautifully appointed rooms, savor delectable culinary delights at the multiple dining venues, and rejuvenate your senses at the state-of-the-art spa and rooftop pool with breathtaking city views. With its central location and world-class amenities, JW Marriott Hotel Surabaya is the epitome of sophistication and offers an unforgettable stay that will leave you wanting for nothing.
Check out the latest prices on Agoda.com *
Check out the latest prices on Booking.com *
Sheraton Surabaya Hotel & Towers
Experience the epitome of luxury at Sheraton Surabaya Hotel & Towers. This five-star hotel welcomes you to a world of contemporary design and warm hospitality. Immerse yourself in spacious and stylish rooms, indulge in delectable cuisine at the hotel's dining outlets, and unwind with various leisure facilities, including a fitness center and spa. Whether you're traveling for business or leisure, Sheraton Surabaya Hotel & Towers offers an exceptional stay that combines comfort, convenience, and impeccable service. Prepare to be pampered and create lasting memories at this prestigious Surabaya hotel.
Check out the latest prices on Agoda.com *
Check out the latest prices on Booking.com *
Mid-range (50 – 150 USD)
Vasa Hotel Surabaya
Located in the city's heart, Vasa Hotel Surabaya offers modern comfort and stylish design. With spacious rooms, contemporary amenities, and a rooftop pool, guests can enjoy a comfortable stay. The hotel also features multiple dining options, a fitness center, and easy access to shopping malls and attractions.
Check out the latest prices on Agoda.com *
Check out the latest prices on Booking.com *
Four Points by Sheraton Surabaya
Four Points by Sheraton Surabaya is a popular choice for midrange travelers seeking quality and convenience. The hotel boasts comfortable rooms, a rooftop pool with panoramic city views, and a fitness center. Guests can savor delicious meals at on-site restaurants and explore nearby shopping centers and entertainment venues.
Check out the latest prices on Agoda.com *
Check out the latest prices on Booking.com *
Budget (below 50 USD)
Super OYO Collection
In Surabaya, the OYO Collection offers budget-friendly accommodations without compromising on comfort. The Super OYO Collection in Surabaya includes a selection of affordable hotels that provide a reliable and pleasant stay. These hotels offer clean and comfortable rooms, essential amenities, and a convenient location at budget-friendly rates. The Super OYO Collection ensures that even budget-conscious travelers can enjoy a comfortable and hassle-free stay in Surabaya without breaking the bank. One of the popular ones is Super OYO Collection O 30 Amega Crown Sub *.
Check out the latest prices on Agoda.com *
Check out the latest prices on Booking.com *