Top 5 Things to Do in Tana Toraja, Sulawesi
Having thousand of islands, each area in Indonesia has its own unique culture and ritual. Tana Toraja in Sulawesi is one which has the said unique feature. Tana Toraja means simply Toraja Land. To get here, you have to first get into Makassar, which is a capital city of South Sulawesi. There is no flight going to this area. That is why you would have to take a private car or bus from Daya Terminal in Makassar to get to Tana Toraja. It takes around 8 to 10 hours driving from Makassar to Toraja.
Most people make their way to this remote location to take part and view the famous ancient burial rites. Death is an important part of the Toraja culture and their funeral rites are definitely worth an experience. Besides this fascinating activity, here are our suggested things to do while you are in Tana Toraja.
Watch the ancient funeral ceremony
First of all, we must check out the funeral ceremony or burial rites of the Toraja people. It is, after all, the most intriguing part this mountainous region. The local people called this mortuary death ritual Rambu Solo. The history of this ancient rite go way back and the concept of death is deeply entrenched in the people of Toraja.
They believe that a dead person is just someone who is sick and not completely dead until his/her family conduct the ritual. Since a lot of money is required to set a Rambu Solo, many wait for a while until they can afford the buffalos and pigs for the ceremony. Consequently, Rambu Solo also becomes a tool to classify people based on their social structure. The more sacrificial animals they can afford, the more people will discover that a family belongs to the upper social class. The people in Toraja always help one other to run this sacred and obligatory ritual, whether in terms of cost or labour. There is no exact date for Rambu Solo but mostly the rituals are carried out in June, July, and August. Come to Tana Toraja during these months to have a chance to participate in this ritual.
Visit the amazing Graves of Lemo
Visiting graves is surprisingly one of the exciting activities in Indonesia. Take walks around the place to visit various gravesites or other popular sites, normally around 1 – 3 hours walk. If walking is not your thing, you may try taking short bemo (minibus) rides from Rantepao. The most popular and photographed are the graves carved into the wall of the natural rocks at Lemo.
Marvel at the traditional Tongkonan houses
These houses with upward-sloping roofs are decorated with intricate design, and they have been used as a center for Aluktodolo (an old Toraja people's religion or belief) rites. The Aluktodolo rites are like storing harvest in a carved rice barns or water buffaloes slaughter for ceremonies. Places with houses, granaries and/or ceremonial grounds and burials are Pallawa, Bori Parinding, Kande Api, Nanggala, Buntu Pune, Londo, Lemo and Tumakke.
Visit Ke'te Kesu village
This village is nominated for having a completed settlement in Tana Toraja. It has houses, granaries, burial place, ceremonial ground, rice fields and water buffalo pasture.
Learn The Traditional Spinning Process in Sa'dan Village
Learn how to spin the cotton with its traditional spinning process here in Sa'dan Village. Although not so well known by tourists, this is one of the must do things here. Grandma Panggau, one of few old people who is still strong and healthy, will teach you how to spin the cotton ball into a yarn. She is here with the support of government through Culture and Tourism Department to demonstrate this rare spinning process to tourists.
After that, buy some local-made woven fabrics to take home. All the fabrics here are directly distributed by the makers around Sa'dan. You may easily find many weavers in Toraja since almost all locals also rely on this job to earn some money. But it is now rare to find someone who can still process the yarn itself for the materials as per traditions.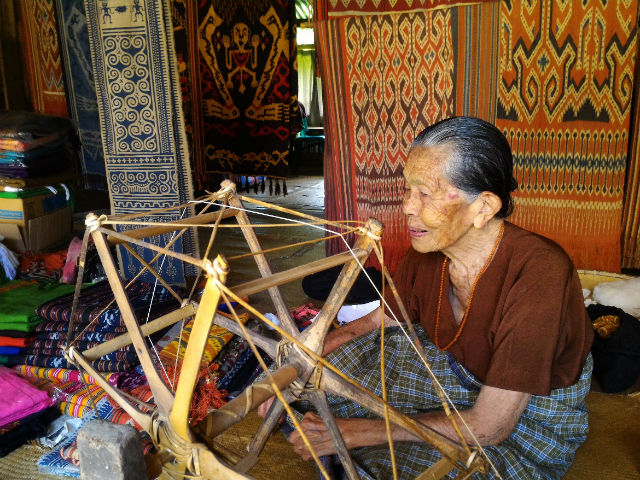 View The Highest Statue of Jesus
Everyone knows about the world famous statue of Jesus in Rio de Janeiro, Brazil, with the height of 38 m. But few know about this other statue of Christ the Redeemer here in Toraja. Touted to be at the height of 40m, this may be the higher statue of the two!
Get yourself ready to climb the steep stairs 1km uphill to this statue. It is also good to spend your evening here to watch the amazing sunset. It is a picturesque viewpoint with the statue against the violet sky. Do be careful when you go downhill since this place does not provide proper lights along the pathway yet.
Take a bath at the Tilanga Spring Water
If you wish to keep yourself away from the crowd, then this place is for you. Tilanga spring water is a natural pool away from the hustle and bustle of the city. This pristine lake is nestled between rocks surrounded by the lush trees and natural sounds. The deepest part is about 5 meters down.
This destination is located at Sarira Village, Makale, about 15 km south of Rantepao. You can reach this place without any trekking. A parking area is provided. A fun thing to do here is to throw coins into the lake, as the local children here will excitedly jump into the water to catch them.
Catch The Land Above The Sky
Wake up in the early morning to catch the most beautiful sunrise in Toraja. This place is located 1400 meters above the sea level in North Toraja. Lolai is the name of this place, also known to the people as "The Land Above The Sky". To get the great view up here, you have to arrive here at least at 4.30 AM. As the sun rises, you will be awed by the light up clouds beneath your feet.
A travel tip is to take your own motorbike here. Please be careful though since the road access to here is narrow with limited street lighting. Drive slowly and stay alert when facing oncoming vehicles down the hill.
Toraja is such an exotic destination, not only for its rich culture and unique ritual of generations but also its relatively unknown nature and tourist attractions. Motorbike is the best option here to explore the area. You can rent a motorbike with only IDR 150,000-200,000/day. Also, stay in the tourist area at Rantepao, so that you can easily find everything that you might need there.
---
Where to stay at Tana Toraja
Most travellers will choose to stay at Rantepao * as it is the most convenient. Popular hotels here are The Heritage Hotel * and Toraja Misiliana Hotel *.
---
Related articles:
Guide to Tana Toraja, Sulawesi
Top 10 Must Visit Places in Sulawesi
Sulawesi Travel Guide