The Ultimate Guide to Togian Islands, Sulawesi
Togian Islands (also known as Togean Islands) are like islands lost between the midst of everything in Northern Sulawesi (Sulawesi Utara), thus coining it as an almost secret dive destination. This invokes thoughts of real independent traveling there and diving into unexplored areas.
One thing for sure is the water is pristine, and you would not see many other divers around. There are more than 30 dive sites among the 56 islands! Imagine all the places untouched! You come here to dive, dive and dive but of course; it can be also for just a retreat.
You may still arrange tours and trips to get here without hassle, but it is also not impossible to get here. The difficulty getting there is the reason these islands remain mainly untouched. Therefore, it is a good thing in a way.
See the Best Accommodations in Togian Islands
Where are the Togian Islands
Togian Islands is an archipelago located in the transition zone of Wallace and Weber lines across the central Gulf of Tomini, off the coast of Central Sulawesi. The islands are situated roughly in the middle of Sulawesi's northern and southern tips.
It comprises around 66 large and small islands, scattered throughout the gulf between the mainland of Central Sulawesi and the Banggai Islands.
Why visit Togian Islands
The islands are known for their unspoiled natural beauty, with pristine beaches, crystal-clear waters, and lush rainforests. The surrounding waters of the Togian Islands are home to a diverse array of marine life, including colorful coral reefs, sea turtles, dolphins, and various species of fish, making it a popular destination for diving and snorkeling enthusiasts.
The local communities mainly rely on fishing and farming and are friendly and welcoming to visitors, offering a glimpse into their traditional way of life.
When is the best time to visit Togian Islands
The climate here is tropical and with two seasons – dry and wet. But it is generally warm all year round, and it is driest during the summer months of April-October, making these the best time to come here but bear in mind it could go really hot. The sea conditions are also calmer, making it easier for visitors to enjoy water activities such as diving, snorkeling, and island hopping.
The peak tourist season in the Togian Islands is from June to August, when the weather is at its best. Visitors during this time can expect plenty of sunshine and clear blue skies but should also be prepared for more crowds and higher prices for accommodations.

Interesting Places to Visit in Togian Islands
If you stay in the southwest area of the Togean Islands, then the places you can visit are:
Pulau Papan (Papan Island),
It is a small island inhabited by native tribes. To reach this beautiful place, you will cross a romantic 1.3-kilometer-long bridge connecting this small island with the mainland. Walking on this bridge gives a sensation like walking on a vast ocean because the view is towards the open sea.
The View Tower in Kadoda.
If you walk from Pulau Papan across the romantic bridge to the end of the bridge, then you will arrive at Kadoda Village. In this village, you will find a tower intended for visitors who want to see the archipelago from 360 degrees.
Stingless jellyfish lake
This is a lake-like area with seawater where various aquatic animals and jellyfish dominate the population. These jellyfish are stingless and harmless, so you can swim (without fins) with them and witness the beauty of their movements in the water.
Settlements of the Bajo tribe
They are located above the water on the edge of islands with shady waters. You can learn how they survive and live an everyday life. Here you can measure how strong you can live in the open, like on these islands in the old ways.
Settlements or villages of the native Togean Islands
Visit the settlements or villages of the native Togean Islands and witness the traditions of the human life cycle. In these villages, you can socialize with the residents, do something with them or learn how to do something like how they make brown sugar, preserve fish, and various types of their special food.
During the harvest season, you might be interested in visiting the clove plantations owned by residents, getting involved in harvesting cloves, and feeling the sensation of hanging on high steps to pick cloves.
The residents of the Togian Islands are very friendly and feel happy when they receive visits from strangers at their homes. Asking or offering to participate in their productive activities will enliven the atmosphere in their environment with jokes and laughter.
Mangrove boardwalk in Lembanato
It is a wooden bridge crossing a natural mangrove forest conservation area. The air, aroma, and sound of nature will tell you you are in a mangrove forest. Visiting this area should also be aimed at learning about the mangrove forest ecosystem. You may need a local expert guide (preferably from a mangrove forest conservation group) in Lembanato village.
Things to do in Togian Islands
As a place with dozens of islands with beautiful beaches with around 262 species of coral, 596 species of fish, and dozens of other types of marine animals, Togean is the right place for those who love underwater scenery.
You can dive around the small islands with a rented boat or snorkel. Note that boat rental fees also vary greatly, so you must be smart in haggling.
Diving
As one of the top diving sites in Indonesia, this is the place where you have to try scuba diving. There are hundreds of species of corals here, many still unclassified, and the diversity of marine life here is staggering. You will find many diving spots in the form of lush coral cliffs and many people, so it seems you are diving between tall buildings. The fertility of coral reefs in the Togean Islands is due to their location close to the equator and the clear sea water so that sunlight penetrates further into the water.
If you intend to dive, then make sure the place you stay has dive facilities and someone who can train or guide dives. And you don't need to worry; this facility is available at several resorts in this marine conservation area.
One of the best dive sites in Togian islands is the B24 Allied bombers in WW2, located just 16km northeast of Kaidiriri Island. Here you can dive with the wrecked aircraft that is now home to so many mysteries of the underwater sea. Another highlight is diving in Pulau Una Una (the pinnacle), which has lots of large marine life to see.
Here are more recommended diving spots around these islands:
The Pinnacle – Una Una: A large pinnacle reef with a wall or more as deep as 60 meters. Many variations of sponge coral
Apollo – Una Una: Most likely can see the school of Blackin Barracuda
Pasir Tengah (Central Sands): 3 kilometers wide atoll reefs and nudibranchs
B24 Bomber Wreck: The shipwreck is 17 meters long and 22 meters wide
Batu Gila (Gila Rock): Reef sharks, manta rays, and barracuda
Goa Goa: Diving through tunnels with beautiful coral reefs and good water visibility
Snorkeling
The coral reefs of the Togian Islands are extensive. Most hotels or cottages are on the edges of long white sandy beaches with an expanse of coral reefs in front. Imagine snorkeling right before your cottage before breakfast, or at any time.
Non-swimmers can also enjoy the coral reefs using the cottages' water facilities, allowing you to float and admire the view with water goggles.
If you feel tired after diving and/or snorkeling, you can relax while touring the islands using a rented motorized boat. The speedboat rental's price varies, around IDR 900,000 – IDR 1,000,000 (around 70 – 80 USD) at the cheapest (including driver). This chartered speedboat can accommodate up to 10 people with minimalist baggage.
Below are the ships' costs for a snorkeling trip in Togian Islands:
Reef One – Hotel California – Karina Beach – Jellyfish Lake – Mangrove Forest: IDR 425,000 (less than USD 40, for 6 – 8 people)
Taipi Island – Karina Beach – Jellyfish Lake – Mangrove Forest: IDR 425,000 (less than USD 40, for 6 – 8 people)
Hotel California – Reef Dua – Atoll – Malenge Beach: IDR 475,000 (less than USD 45, for 6 people)
Reef One – Reef Two – Atoll – Malenge's Jetty: IDR 525,000 (less than USD 50, for 6 people)
Kabalutan Village – Talawenga Island: IDR 525,000 (less than USD 50, for 6 – 8 people)
Rent snorkeling equipment and fins: IDR 50,000 (less than USD 5 /day)
Fishing
In Ampana, the port city, before heading to the Togean Islands, there are modern charter fishing facilities. You can order it and take a trip using a fishing boat (fishing). You can stay on the ship and do not have to stay in the cottages.
If you are not with a charter fishing group, you can carry out traditional fishing activities together with residents who are proficient in carrying out the type of fishing activity you choose, such as; long-line deep fishing, short-line shallow fishing, netting, trawling, and various ways of hunting in the sea. You may need a quick tutorial on how to do this before doing this activity or while traveling.
Crossing from one island to another
One of the most intriguing experiences in the Togian Islands is crossing from one island to another on long wooden bridges.
These bridges, which are locally known as "jembatan gantung," are made from sturdy planks of wood and stretch across narrow straits or lagoons between the islands. Some of these bridges can be quite long, and walking across them can be thrilling and awe-inspiring, providing stunning views of the surrounding waters and lush greenery.
Crossing the wooden bridges is also a chance to interact with the local communities who use them regularly as a means of transportation between the islands. Visitors can witness the daily life of the locals and get a glimpse of the traditional lifestyle of the Togian Islands.
One of the famous bridges is the one-kilometer-long bridge connecting Malenge Island to Papan Island. Walking on this wooden bridge will allow you to see the coral reefs directly below. Before leaving this island, you can go up to a hill called Batu Karang to see the panorama of the whole village and the bridge from above.
Waiting for sunset at the dock
After moving from one island to another, apart from having dinner, the most exciting thing to do on Togean Island is to sit on the dock and wait for the sun to set.
The view is so incredible; you will feel so lucky you've decided to come to Togian Islands.
Togian Islands Accommodations
You may stay on Kadidiri Island, with three resorts here to choose from, which normally charge per night, including meals. The best place to stay here is the Kadidiri Paradise *. Alternative budget accommodation would be at Kalolio Island, such as Sanctum Una Una Eco Dive Resort * .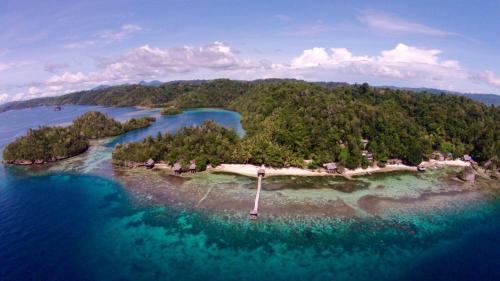 Kadidiri Paradise is a resort on Kadidiri Island in the Togian Islands, offering comfortable accommodations, excellent dining, and access to some of the best diving and snorkeling in the area. The resort has a dive center, and friendly staff and is situated on a beautiful beach with crystal-clear waters and stunning coral reefs. In addition to its great location and amenities, Kadidiri Paradise is also known for its relaxed and laid-back atmosphere. Guests can spend their days lounging on the beach, exploring the island, or taking part in one of the many activities offered by the resort, such as snorkeling, diving, kayaking, or hiking. With its combination of natural beauty, comfortable accommodations, and friendly service, Kadidiri Paradise is a popular choice for travelers looking to experience the best of the Togian Islands.
Check out the latest prices on Agoda.com *
Check out the latest prices on Booking.com *
Harmony Bay Resort and Dive Center is a popular choice for travelers looking for a comfortable and affordable stay in the Togian Islands. Located on the island of Batudaka, the resort offers a range of accommodation options, including private bungalows and shared dormitories, all with modern amenities and comfortable furnishings. The on-site dive center is a major draw, offering a range of courses and dive trips to some of the best sites in the area, including coral reefs, shipwrecks, and underwater caves. Guests can enjoy delicious Indonesian and Western cuisine at the resort's restaurant or relax and soak up the sun on the beautiful beach. With its friendly staff, great location, and affordable prices, Harmony Bay Resort and Dive Center is an excellent choice for anyone looking to experience the natural beauty and underwater wonders of the Togian Islands.
Check out the latest prices on Agoda.com *
Check out the latest prices on Booking.com *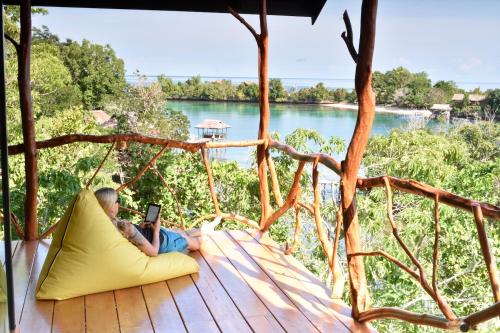 Araya Dive Resort is a charming and secluded resort located on the island of Walea Kadidiri in the Togian Islands. The resort offers comfortable and eco-friendly bungalows with stunning ocean views and easy access to the beach. The on-site dive center is a major attraction, offering a range of diving courses and excursions to some of the area's most beautiful and unspoiled coral reefs. Guests can also enjoy delicious meals at the resort's restaurant, which features fresh seafood and other local specialties. With its beautiful location, peaceful atmosphere, and excellent diving opportunities, Araya Dive Resort is a great choice for anyone looking for an authentic and unforgettable Togian Islands experience.
Check out the latest prices on Agoda.com *
Check out the latest prices on Booking.com *
How to get to the Togian Islands
By Flights
The most common way is to take regular daily flights from Jakarta and Surabaya to Gorontalo and catch a public ferry to Wakai in Togian Islands, which would take about 13 hours. Another way is flying to Palu and taking transportation to Ampana, and from there, catching a boat to Wakai.
Wakai is the central hub for transportation in the archipelago, with regular ferry connections to other islands and the mainland.
Via Gorontalo
Take a flight from Jakarta or Surabaya to Gorontalo. Then head to the ferry terminal located approximately one hour from the airport.
The ferry from Gorontalo to Wakai departs every Tuesday and Friday at 6 pm. The trip by ferry is approximately 12 hours, and will arrive in Wakai the next morning. Ferry ticket prices to the Togian Islands range from IDR 64,000 for economy class (non-ac) to IDR 500,000 for a cabin that fits four people.
Via Ampana
Ampana is the capital town of Tojo Una-Una Regency, where the Togian Islands are located. You can reach Ampana by plane from Palu City. If you fly from Jakarta, Surabaya, Bali, or Makassar, you must fly to Palu first. Then, take after that, take another flight to Ampana.
If you choose this route, you probably must stay overnight in Palu first because Wings Air currently operates the flight schedule from Palu to Ampana and departs only once a day at 11.35 am.
After arriving at Ampana, you must take a boat to Wakai. The boat to Wakai departs at 9 am and arrives around 2 pm (a 5-hour journey). The ticket price for the Ampana to Wakai is IDR 150,000 (USD 10 – 12).
By Land
Suppose you are coming from Tana Toraja in South Sulawesi. In that case, you may take a bus trip from Rantepao of about 14 hours to Ampana and then followed by a boat to Wakai in Togian Islands, which is another 4 hours.
How to get around Togean Islands
You may charter a boat around the Togian islands, typically costing 1-2 million Rp.

Where to go nearby
Manado – get back to this unassuming yet quite interesting city that acts as a springboard to other dive sites and areas of travel.
Bunaken Island – is another fantastic dive site for divers alike.
Tana Toraja – you may head to South Sulawesi and catch the ancient funeral rites of this indigenous tribe
Travel Tips
Remember to bring mosquito repellants as they are really notorious here being it is still hugely undeveloped.