Top 5 Ubud Temples to Visit in Bali
Spirituality is the main vibe in Bali, and Ubud, as the center of Bali, came with few of the best temples in Bali. Visiting temples in one of the things to do in Ubud besides the museums, spa, massages, and shopping.
The main religions here is Balinese Hinduism and its temple is known as pura. The term pura is originated from the Sansrkit word that means "walled city" or "palace" and has now evolved aptly to mean temple complex in the Balinese language.
Pura Taman Saraswati temple, Ubud
This temple is built 60 years ago and dedicated to the Goddess of Arts. It is well known for its lotus-filled pond, which is often called the "Lotus Open Pond Stage". The gardens and pond can be visited during the day but only Hindus are allowed inside the temple. There is also a Cafe Lotus attached where you can slowly soaked in the serenity. This temple hosts a variety of traditional dances on different days and is touted to be one of the best in Bali.
How to get there:
Located in Ubud, this temple can be found at Jl. Kajeng.
Pura Dalem Taman Kaja, Ubud
Well-known for its kecak dance, it is touted to be the best place to enjoy this popular dance in Bali. You can find the shows on Mondays and Wednesdays. This temple is located beneath a huge banyan tree and the stairs leading up to it are lit by oil lamps. A truly magical experience going into the temple.
How to get there:
Located in Ubud, this temple can be found at Jl. Raya Ubud.
Goa Gajah Temple
Goa Gajah temple is a temple dated back to the 10th century and is known as the Elephant cave. One of its main attractions is its carved entrance of menacing creatures and demons. Inside the cave, you will find statues of the Lord Ganesha (the God with the elephant head). Also within the site are an extensive bathing pools, which are not only excavated until the 1950s.
How to get there:
It takes only 10 minutes drive from Ubud city center.
Pura Tirta Empul Temple
Also known as the water temple in Ubud, Pura Tirta Empul has its own sacred spring water with healing properties. This temple dates back to 926 AD and is well revered by the locals. Many will come and climb up to the temple for a bath and meditation in the long main pool. It is believed to bring good fortune and health. Base on a legend, this spring us created by the God Indra as an antidote to the poisonous spring of an evil demon King.
How to get there:
To get to Pura Tirta Empul would take 30 minutes drive from Ubud
Pura Gunung Kawi Temple
This temple, known as the "valley of the Kings' is located in the cliffs between rice fields at the south of Tampaksiring, Bali. The Pakerisan river flows through the ravine and flanking the river is the shrines and carved stones that are meant to commemorate the 11th-century kings and queens. Though technically not a temple, it is still revered as a holy place by the locals. This site is more of an actual tomb for the royalties that are cremated here base on Balinese customs.
How to get there:
This also takes 30 minutes drive north from Ubud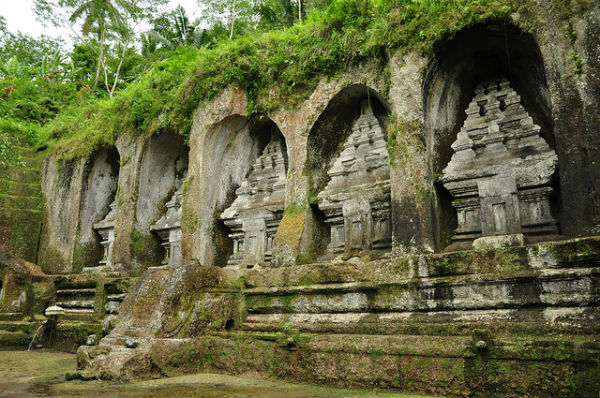 As you can see, Ubud is a strong spiritual center of Bali with its variety of temples worth a visit. Along with the temples, you will also find shows and festivals that are bound to entertain. When I visited here, I have also chose Ubud as my central place to explore Bali, especially with so many good places to stay.
---
Where to stay in Ubud
Stay in Ubud for culture, nature, arts and markets. Ubud has plenty of places that tourists will enjoy staying at. There's the Como Shambhala Estate *, which is a health retreat deep in the rainforest. There's the Hanging Gardens Ubud *, which has a spectacular view and private pool villas. The Purist Villas & Spa * is another popular place to stay in Ubud, as it's a stylish boutique villa complete with meal and spa facilities. A popular boutique hotel is Uma by COMO *, which is located on the hillside in Ubud.
Related article:
Top 10 Temples to Visit in Bali
Top 10 Things to Do in Ubud, Bali
1 day Ubud Itinerary – What to Do and See