Perfect Bali 1 Week Itinerary
With this Bali 1 week itinerary, you will be able to cover most of the must-visit places in Bali in your itinerary.
If you only have a week in Bali, one crucial tip is to consider hiring a driver and a car * to take you around as Bali island itself is huge and would take quite a bit of time to get from one place to another. If you don't mind quite some moving around for some of the tourist attractions while having a few days for relaxation as well, here is our suggested 1-week itinerary in Bali:
Why Follow this Bali 1 Week Itinerary
During our 7 days in Bali, we have handpicked the absolute highlights to make the most of our week. Prepare to be awestruck as we explore Uluwatu Temple, Tanah Lot Temple, and witness the captivating Kecak Dance. We'll also bask in the sun at Bali's exquisite beaches, indulge in shopping and vibrant nightlife, and savor a memorable sunset dining experience.
Moreover, we'll dedicate a day to immerse ourselves in the cultural and natural wonders of Ubud and its enchanting surroundings and another day to Nusa Penida, an island known for its stunning natural beauty and crystal-clear waters. Get ready for an unforgettable journey, discovering the very best of Bali.
Where to stay in Bali for a week
We recommend choosing a central area such as Ubud or Kuta for your stay *. These two locations offer convenient proximity to Denpasar Airport, where most of us arrive in Bali. By staying in Ubud or Kuta, you'll find navigating the island easier and making the most of your 1 week trip in Bali.
Day 1 – Arrival and Kuta
Upon arrival at Denpasar International Airport, planning your transportation to the hotel * is advisable. You can refer to our Best Areas to Stay in South & Central Bali to choose the most suitable location for your accommodation.
Hiring a private car charter *may be a good idea to cover airport transfer and visiting Kuta if you are not staying there.
Start your Bali adventure by heading straight to Kuta Beach without wasting much time. This popular beach destination offers a perfect opportunity to relax, soak up the sun, and swim in the azure waters. If you're up for it, consider taking surf lessons and riding the waves that Kuta is renowned for. After that, check out Kuta's vibrant nightlife.
There is also, of course, a lot of selection of places to stay in Kuta *.
Highlights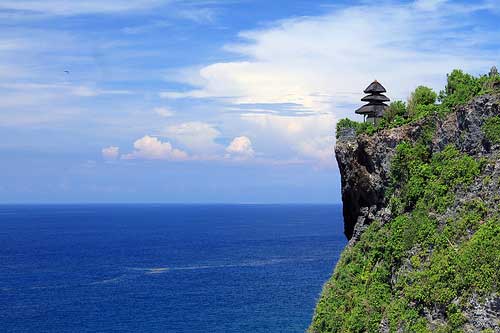 Day 2 – Uluwatu and Tanah Lot Temple
Today would be your sightseeing day. Our first stop is the renowned Uluwatu Temple, perched dramatically on a cliff overlooking the Indian Ocean. Prepare to be captivated by the temple's intricate architecture and breathtaking views.
Next, we'll go to Tanah Lot Temple, another iconic Balinese temple on a rocky outcrop surrounded by the sea. Arriving just in time for sunset, we'll witness a truly magical moment as the sun paints the sky with vibrant hues, creating a picturesque backdrop for the temple. If we're lucky with timing, we might also be able to catch the famous Kecak Dance performance with an enchanting sunset backdrop, creating an unforgettable experience.
To conclude this fantastic day, we'll head to Seminyak, where we'll indulge in a delightful dinner at Ultimo. Known for its delectable Italian cuisine, Ultimo offers a cozy and inviting ambiance, making it the perfect place to unwind and savor a delicious meal
Highlights
Book this Tanah Lot, Uluwatu, and Kecak Dance tour for convenience! *
Day 3 – Beach day
After an eventful day yesterday, it's time to unwind and explore the magnificent beaches of Bali. Take your pick from some of the best beaches in Bali and make your way to a beach of your choice for a day of relaxation. I personally love Padang-Padang Beach and Balangan Beach. Chill on white sand beaches, swim or snorkel in the clear blue sea, and get some holiday tan. Hiring a private car * to take you beach hopping is also recommended, as Bali is larger than it seems!
Toward evening, head to Jimbaran for a seaside romantic dinner. Jimbaran is renowned for its seafood restaurants that offer delectable dishes prepared with the freshest catches from the ocean. Enjoy a candlelit dinner with your loved one as you relish the flavors of the sea and admire the beautiful sunset painting the sky with hues of gold and orange. If you are in this area, don't forget to check out the rock bar at RIMBA Jimbaran Bali by AYANA *
Highlights
To ensure a seamless experience while visiting the beaches you have chosen, including dinner and a bar, I recommend hiring a private car charter *.
Day 4 – Explore Ubud and rice fields
Ubud is the place one must explore when in Bali. Set aside half a day to immerse yourself in this enchanting city's captivating attractions. Here are some of the top Ubud attractions to include in your itinerary:
Ubud Temples – Pura Taman Saraswati or Pura Dalem Ubud.
Monkey Forest
Art Museums
Next, embark on a journey to the neighboring town of Tegalalang, located north of Ubud, and discover the iconic rice terraces that epitomize the beauty of Asia. Whether you explore by car or bike, be spellbound by cascading terraces stretching as far as the eye can see, adorned with vibrant greenery and tranquil rice fields.
As you make your way to Tegalalang, don't miss the chance to visit Aloha Ubud *, conveniently situated along our route. Here, you can experience the renowned Bali swing, which promises an exhilarating adventure and a unique perspective of the surrounding beauty. Capture unforgettable moments and stunning photos as you swing amidst the lush foliage and captivating scenery.
After your swing adventure, return to Ubud and treat yourself to a well-deserved dinner in one of its many fantastic restaurants. Ubud is known for its diverse culinary scene, offering various dining options to suit every palate.
Many tourists stay in Ubud because its central location offers easy access to various attractions around Bali. It serves as a peaceful retreat away from the bustling crowds of Kuta, allowing you to enjoy a serene atmosphere while still being close to the island's most notable destinations.
Day 5 – Northern Bali
Embark on a captivating journey to the northern region of Bali today. Start your day early to witness the enchanting sight of dolphins at Lovina Beach, and afterward, unwind on the serene black sand beach, taking in the tranquility of the surroundings.
Or you may take a worthwhile early morning trek up Mount Batur to catch a mesmerizing sunrise. As the sun rises, the sky is painted with beautiful shades of gold and pink, revealing the stunning silhouette of an active volcano in the distance. The serene environment and magnificent view combine to create an unforgettable experience.
Next, continue your exploration by heading to the underrated gem of Pura Ulun Danu Bratan, a remarkable temple by the picturesque Bratan Lake. This temple holds immense cultural significance and is considered one of the most important temples in Bali.
Conclude your northern loop journey at the majestic Besakih Temple, the "Mother Temple of Bali." This sprawling temple complex is nestled on the slopes of Mount Agung and holds significant religious importance to the Balinese.
Highlights
Day 6 – Nusa Penida
Nusa Penida, an island paradise off the coast of Bali, has become popular in recent years, and for a good reason. As you set foot on this enchanting island, be prepared to be mesmerized by its untouched beauty and unspoiled landscapes. Explore the dramatic cliffs and pristine white sand beaches that line the coastline, such as Kelingking Beach with its iconic T-Rex-shaped cliff or the crystal-clear waters of Crystal Bay, perfect for snorkeling and diving.
Visit the awe-inspiring natural wonders like Angel's Billabong and Broken Beach, where the ocean's raw power has sculpted breathtaking rock formations. Immerse yourself in the tranquility of Nusa Penida's lush forests and visit the sacred temple of Pura Goa Giri Putri.
Highlight
To get to Nusa Penida from Bali, you may catch a fast ferry from Sanur *.
Day 7 – Massage and last-minute shopping
If time allows, on your last day in Bali, treat yourself to a rejuvenating massage or spa experience in Ubud, offering the perfect ending to your trip. Afterward, explore the vibrant shopping scene in Ubud, where you'll find various options to indulge in some last-minute shopping. Here are some recommended choices:
Ubud Art Market: Traditional crafts, textiles, and souvenirs.
Boutique Shops and Galleries: Unique fashion, jewelry, and contemporary art.
Pasar Seni Sukawati: Affordable Balinese crafts, batik, and silver jewelry.
Ubud Traditional Market: Local produce, spices, baskets, and snacks.
If you are pressed for time, choose one of the above before heading off. Also, if you are flying much later than check out, ask your hotel to let you keep your stuff while you head out to shop or for a massage.
Highlights
Bali 1 Week Itinerary Recommended Tours
Visit the iconic Tanah Lot, catch a sunset at Uluwatu Temple, be mesmerized by Kecak Dance, and relax at Padang-Padang beach.
Witness the spiritual bathing ceremony at Tirta Empul Holy Spring Water Temple, marvel at the iconic Tegalalang Rice Terraces, thrill at the jungle swing, and visit a traditional village.
Discover Bali at your own pace with hassle-free car rental and driver service. Customize your itinerary for 6, 10, or 12 hours. Choose a comfortable, air-conditioned vehicle that suits your group size. Professional and multilingual drivers.
Best Accommodations in Bali
Booking.com is my favorite site for booking a place in Bali when planning my trip. The main reason is that most bookings can be canceled right up to the trip, allowing flexibility. Here are a few of the best accommodations that we recommend for a stay in Bali:
Luxury (from 150 USD)
Oberoi Villa, Seminyak
For those looking for privacy and to splurge for a honeymoon or special occasion. With quick access to Seminyak Beach, this Balinese-inspired accommodation is built on 15 acres of tropical gardens. The Frangipani Cafe inside here is famed for its cuisine. Notables are their open-air massage pavilions and outdoor pool overlooking the ocean.
Check out the latest prices on Booking.com *
Check out the latest prices on Agoda.com *
Tandjung Sari Hotel, Sanur
For those who appreciate traditional architecture and design. This hotel, built in 1962, encapsulates the Balinese style and spirit. The spacious gardens are thatched roofed bungalows, pavilions, sculptures, and fish ponds. It also has direct access to Sanur Beach.
Check out the latest prices on Booking.com *
Check out the latest prices on Agoda.com *
Mid-range (50 – 150 USD)
Sri Ratih Cottage, Ubud
For those who are looking for unpretentious comfort with Balinese charm. Located in Ubud, our favorite place to stay in Bali, the Balinese-style cottages with carved wood furnishings are set in beautiful gardens with a pool.
Check out the latest prices on Booking.com *
Check out the latest prices on Agoda.com *

Resort Courtyard by Marriott Bali, Seminyak
Marriott is a trusted brand for many, and this one in Bali lives up to its name. This secured luxury is located just 5-minute walk to Seminyak Beach. A noted feature is its private terraces for relaxation, making it a favorite of couples.
Check out the latest prices on Booking.com *
Check out the latest prices on Agoda.com *
Budget (below 50 USD)
Nick's Pension, Ubud
For those seeking a mixture of peace and action in the heart of Bali – Ubud. The rooms come with traditional Indonesian architecture and air-conditioning. A swimming pool, restaurant, Wifi, and parking are also provided.
Check out the latest prices on Booking.com *
Check out the latest prices on Agoda.com *
Linda Villa, Sanur
For the budget conscious, this guesthouse in Sanur is a steal, featuring swimming pools, clean, air-conditioned rooms, and a simple breakfast. It is located at a quiet place with only 15 minutes easy walk to the beach. Prices start from only 24 USD!
Check out the latest prices on Booking.com *
Check out the latest prices on Agoda.com *
How to get to Bali
Getting to Bali offers several options:
By Air: The most common and convenient way to reach Bali is by flying into Ngurah Rai International Airport, also known as Denpasar Airport. It has excellent connectivity with major cities worldwide, and numerous airlines provide direct flights to Bali *.
By Sea: Another option is to reach Bali through ferry services. Regular ferries operate between neighboring islands such as Java and Lombok, offering a scenic and leisurely journey for those who prefer an alternative mode of transportation.
Upon arrival in Bali, various transportation options like taxis, ride-hailing services, or private transfers * are readily available to take you to your desired destination.
Recap and tips for your perfect 7 days in Bali:
Here are some additional tips to help you make the most of your 1-week trip in Bali:
Plan your itinerary wisely to ensure you cover the must-visit places in Bali within the given time frame.

Consider hiring a driver and a car to save time and make transportation more convenient while exploring the island.

Choose a central area such as Ubud or Kuta for your accommodation. These locations provide easy access to Denpasar Airport and make it easier to navigate the island.

Explore the cultural hub of Ubud, known for its art galleries, traditional markets, and iconic rice terraces. Don't miss the chance to visit the sacred Monkey Forest Sanctuary.

Spend time in Kuta to experience Bali's vibrant nightlife, enjoy the beautiful beaches, and browse the numerous shops and boutiques.
FAQ