Which Gili Islands to go to for honeymoon?
Q: My boyfriend and I plan to go to Gili Islands for our honeymoon trip, but I couldn't decide which of the three to go. Can you please advise?
– Bati
A: If you want a peaceful and quiet honeymoon for just the two of you, I would suggest going to Gili Air or Gili Meno. Gili Meno is the quietest if that is your main point. Else, Gili Air is noted as the best all-rounder, with a good combination of life. Gili Trawangan, on the other hand, is more for the crowd and party scene, so you may want to avoid that.
Where to stay in Gili Islands for Honeymoon?
We recommend staying here in Gili Air for your honeymoon: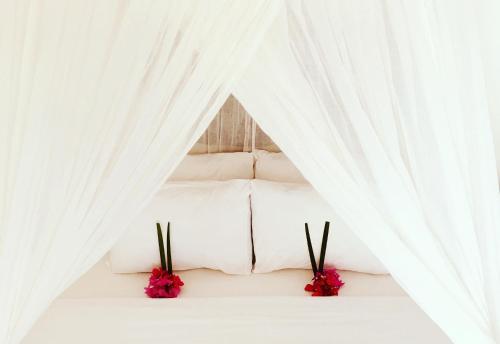 This quaint and rustic design lodge will transport you back to the days of yore. Dreamlike but clean with traditional Indonesian hut designs, the place is cozy and inviting, with little art touches. Just outside is the tranquil village of the island. A home away from him, prices starting only from 70 USD!
Check out the latest prices and reviews at Booking.com *
Check out the latest prices and reviews at Agoda.com *
But don't worry, as the Gili Islands are nearby each other; you can always choose to hop over to another anytime.