6 Stunning Beaches in Surabaya and nearby
As the second biggest city in Indonesia, Surabaya indeed gives off a vibe of a metropolitan city with a shopping spree and sparkling modern life atmosphere rather than mesmerizing natural beauty. However, beyond the concrete jungle lies a hidden gem awaiting discovery. Surabaya and its surrounding areas boast stunning beaches that captivate the senses and offer a refreshing escape from the daily grind. From pristine stretches of golden sand to crystal-clear waters teeming with marine life, these beaches in Surabaya and nearby offer a coastal paradise that will leave visitors in awe.
What are the best beaches in Surabaya and nearby? Let's find out below!
Kenjeran Lama Beach (Pantai Kenjeran Lama)
You can't leave out Pantai Kenjeran when looking for beautiful beaches in Surabaya. This beach is indeed the iconic beach of this metropolitan city.
To enter the beach area, you must only pay IDR 5,000 (less than half a US dollar). The ticket price may change occasionally but worry not; it is always cheap.
Once you've arrived at this beach, you will know why this beach is famous among the citizens. The city government indeed make some significant renovations to keep this destination worth your time. Aside from the breathtaking sunrise view, you can enjoy the panorama via Jembatan Suroboyo (Surabaya Bridge).
If you like high-adrenaline activities, you can pick a flying fox to enjoy more of the beach and nearby view while getting some thrilling experience. And, if you prefer everyday activities like futsal, there is also a sand field for playing the game in this area. Also, if you come with your little ones, you can take them to enjoy the swing or slide provided.
Then, when you feel like eating something while enjoying the beach, you can quickly grab some street foods, or if you prefer heavier meals, you can take your time in small restaurants nearby. There are a lot of choices on the menu, from Eastern to Western cuisines.
How to get there: Kenjeran Lama Beach is located in the Bulak sub-district on the north side of Surabaya. You can easily reach this beach from wherever you stay in Surabaya. Whether you ride a motorbike, cab, or online car rental to reach this beach, it won't take more than an hour in regular traffic.
Kenjeran Baru Beach (Pantai Kenjeran Baru)
As the name suggests, this beach in Surabaya is still related to Kenjeran Lama Beach, only that this is more equipped. This new version of Kenjeran Beach is located in Sukolilo Baru village. Surabaya locals also call this beach Pantai Ria Kenjeran or Ken Park.
The entrance ticket to the beach is IDR 10,000 per person. The ticket is only for entering the beach and not for the attractions. So, if you like to ride a boat, horse, or other vehicle, you must pay an additional fee directly to the operator.
In this Kenjeran Baru Beach, you can find an additional park named Ken Park. This park has more attractions like a swimming pool (water park), horse racing, road race, outbound stuff, go-kart, and tennis court. The entrance ticket to Ken Park might be more expensive, but it's not too expensive either; only IDR 30,000 to IDR 35,000, less than 3 USD.
There are many opportunities to take Instagram-worthy pictures on this beach. And, since the operational hours are pretty long, you can come here from 9 am to 10 pm.
How to get to Kenjeraan Baru Beach in Surabaya:
If you want to go to both Kenjeran beaches (Lama and Baru), you can go to Kenjeran Baru first because it's located before Kenjeran Lama Beach; if you take the route by going straight via Jl. Kenjeran then turn left to Jl. Sukolilo Larangan and turn right to Jl. Pantai Ria Kenjeran. Usually, it takes less than 30 minutes by car. There will be road signs on the left and right along the way, so don't worry; you won't get lost even when you go alone.
Gili Labak Beach (Pantai Gili Labak)
The next beach destination I encourage you to visit when you are in Surabaya is Gili Labak Beach. This beach is further compared to the previous two beaches in Surabaya because this one is located on the small island of Gili Labak in the Sumenep region, a region in Madura Island.
The trip to Gili Labak Beach may be a bit tiring, with 4 to 6 hours in total, but all the exhaustion will undoubtedly be paid off once you see the magnificent beauty of the beach. Anyone who has come to this beach agrees that this beach is superb, a must-visit for any beach lover.
The scenery, water, sand, and air surrounding it are mesmerizing. You may even want to stay the night here, but of course, you can leave after spending some time, especially if you only plan a day trip.
At the Kalianget harbor, many people offer boat rentals to reach Gili Labak. The price varies depending on the boat's size. The cheapest option when you come here alone or with only two people or a small group is to go to the island using a shared boat (Kapal sharing). You will only pay IDR 80.000 per person with this option. With this shared boat, you may have to wait until the ship fulfills the intended quota. It's like a public bus that will only start leaving after the passenger's seat is full.
However, if you come with a bigger group or if you don't wait for other passengers, you can opt for renting a boat. The price ranges from IDR 500,000 to IDR 1,500,000 per boat, depending on the boat's size.
The crossing duration from the harbor to Gili Labak will take 1 to 3 hours, depending on the boat you rent.
How to get to Gili Labak Beach from Surabaya
From Surabaya City, you can ride a public bus, private car rental, or motorbike to Sumenep first. The ride will take 3 to 4 hours, depending on the speed and traffic. Then, when you've arrived at Sumenep, you should continue your trip to Kalianget Harbor, the key point to reach Gili Labak Island.
Where to stay near Gili Labak Beach
Since it may take some time to get to this beautiful beach, you may consider staying a night. Currently, there are no hotels on the island, but you may stay near the Kalianget Harbor for easy access at Capital El Malik Hotel *.
Capital El Malik Hotel
Discover comfort and convenience at Capital O 91166 El Malik Hotel, a 3-star property situated in Sumenep. This hotel offers air-conditioned rooms with free WiFi and private bathrooms. Guests can enjoy a garden, shared lounge, and room service. Each room features a desk and flat-screen TV and comes with bed linen and towels for a pleasant experience.
Check out the latest prices on Agoda.com *
Check out the latest prices on Booking.com *
---
Pantai Sembilan (Sembilan Beach)
Still located in the Sumenep region, this beach near Surabaya is also a must-visit. While you need more time to reach Gili Labak Beach, you may need less time to get to this one. The entrance ticket to the beach is so cheap at only IDR 5,000 per person.
The scenery of the beach is a sight to behold. With vast white sand, clear blue water, and a clear blue sky above, you will score some amazing photos to add to your private photo album or social media accounts.
How to get to Pantai Sembilan near Surabaya
From Surabaya, you must reach the Sumenep region first, then go to Tanjung Harbor, in Tanjung village, Saronggi sub-district. You can ride a commercial boat from Tanjung Harbor with a cheaper fare, around IDR 10,000 per person, to Beringsang Harbor on Gili Genting Island. Once you reach Beringsang Harbor, you only need to walk to Sembilan Beach because it is beside the harbor.
Pantai Tlangoh (Tlangoh Beach)
This beach near Surabaya is also located on Madura Island but in the Bangkalan region. It is a relatively new destination rapidly gaining attention due to its beauty. Yes, who can refuse a long and large white sand beach with clear blue water? Not only that, but this one is also closer to Surabaya than the previous beaches in Sumenep.
The entrance ticket to this Tlangoh Beach is only IDR 5,000 per person. Then, if you want to sit at the seashore while enjoying the panorama, you can rent a mat for only IDR 10,000. The facilities nearby the beach are also quite complete, although this beach was just recently opened to the public in 2020. There are food stalls, public toilets, and mushola for Muslim travelers.
This beach, just like other beaches that face the Java Sea, has more friendly waves, so you can take the little ones to play around.
How to get to Tlangoh Beach from Surabaya
If you decide to go to this beach by car, it will take around 2 hours, depending on the speed and the traffic. The access to the beach is also quite good, with a long paved road.
Delegan Beach (Pantai Delegan)
Delegan Beach, or what the locals call Pantai Delegan, is a beautiful beach in the Gresik region. Although not a beach in Surabaya, it is located close by in Delegan Village, Panceng Sub-district of Gresik Region. From the center of Gresik city, it's about 40 kilometers or around 1,5 hours' drive.
Delegan Beach is open every day from 7 am to 5 pm. The ticket entrance is IDR 10,000 per person. On weekdays, it's relatively quiet, and pretty crowded on the weekends.
The beach is trendy among beach lovers with kids. The waves are friendly, with a broad sea shore and vast white sand to play with. Not only that, but the additional facilities are also quite complete. You can enjoy exciting activities like riding a banana or duck boat, fishing, playing with kites, or simply floating using rented tires at the seashore.
To complete the experience, you can enjoy the beach scenery while drinking some young coconut ice (es degan) or having snacks that you can buy at nearby food stalls. Don't forget to take some pictures on the available swing with a white sand beach as the background, or walk on the dock nearby. It will be a very memorable experience.
How to get to Delegan Beach from Surabaya
Depending on the speed and traffic, you can reach this beach in a 2-hour drive. Surabaya – Sidayu – Hutan Jati Panceng (Panceng's Teak Forest) – Delegan Beach is the easiest route. The road is straightforward, so you shouldn't have difficulty reaching this beautiful place. Besides, when you choose the route via Sidayu and Panceng Teak Forest, you can find beautiful scenery of the forest and fish farming along the way.
---
Okay, beach lovers, that's what I can share with you this time about some amazing beaches you must visit while in Surabaya. If you want to see more than one beach in a single day trip, choose beaches close to each other, for example, the beaches in the same region.
With the massive communication technology and the government's effort to increase visitors, you should have much easier access to any of the best beaches in Surabaya mentioned here.
---
Best Hotels in Surabaya

Surabaya, a bustling city in Indonesia, offers exceptional hotels catering to discerning travelers. From luxurious five-star properties with stunning amenities to boutique hotels with unique charm, Surabaya has options to suit every preference.
Luxury (from 100 USD)
Hotel Majapahit Surabaya
Indulge in an unforgettable stay at Hotel Majapahit Surabaya, where history and luxury intertwine. This iconic five-star hotel invites you to immerse yourself in a world of colonial charm and modern elegance. From meticulously designed rooms to a tranquil spa and exquisite dining options, Hotel Majapahit Surabaya offers an enchanting escape. Immerse yourself in the city's rich heritage while basking in opulent surroundings, and let the attentive staff cater to your every need. Embark on an unforgettable journey where luxury and sophistication meet, making Hotel Majapahit Surabaya the ultimate destination for a remarkable stay.
Check out the latest prices on Agoda.com *
Check out the latest prices on Booking.com *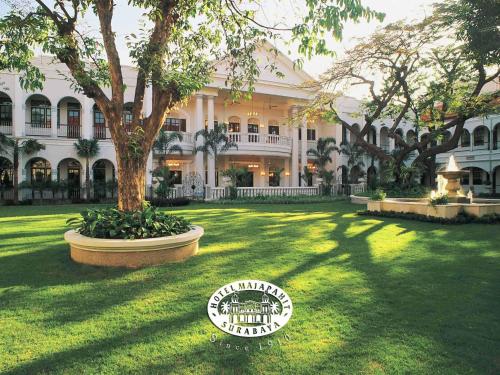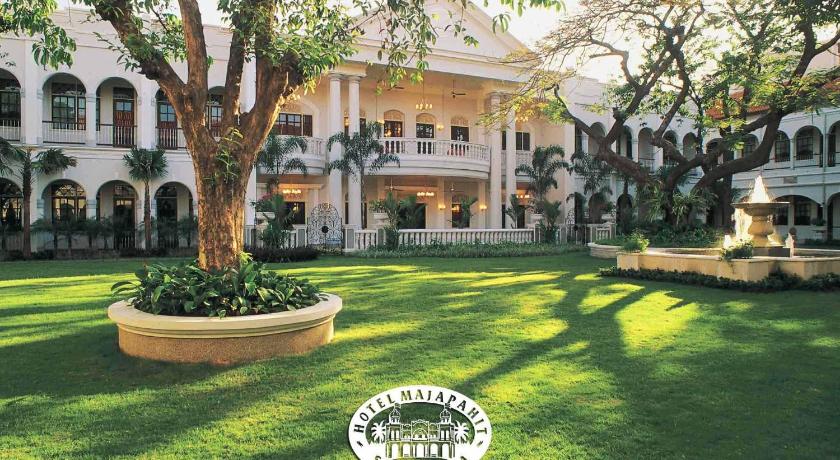 JW Marriott Hotel Surabaya
Experience pure luxury and unparalleled hospitality at JW Marriott Hotel Surabaya. From the moment you step into this exquisite five-star hotel, you'll be captivated by its elegance and attention to detail. Indulge in spacious and beautifully appointed rooms, savor delectable culinary delights at the multiple dining venues, and rejuvenate your senses at the state-of-the-art spa and rooftop pool with breathtaking city views. With its central location and world-class amenities, JW Marriott Hotel Surabaya is the epitome of sophistication and offers an unforgettable stay that will leave you wanting for nothing.
Check out the latest prices on Agoda.com *
Check out the latest prices on Booking.com *
Sheraton Surabaya Hotel & Towers
Experience the epitome of luxury at Sheraton Surabaya Hotel & Towers. This five-star hotel welcomes you to a world of contemporary design and warm hospitality. Immerse yourself in spacious and stylish rooms, indulge in delectable cuisine at the hotel's dining outlets, and unwind with various leisure facilities, including a fitness center and spa. Whether you're traveling for business or leisure, Sheraton Surabaya Hotel & Towers offers an exceptional stay that combines comfort, convenience, and impeccable service. Prepare to be pampered and create lasting memories at this prestigious Surabaya hotel.
Check out the latest prices on Agoda.com *
Check out the latest prices on Booking.com *
Mid-range (50 – 150 USD)
Vasa Hotel Surabaya
Located in the city's heart, Vasa Hotel Surabaya offers modern comfort and stylish design. With spacious rooms, contemporary amenities, and a rooftop pool, guests can enjoy a comfortable stay. The hotel also features multiple dining options, a fitness center, and easy access to shopping malls and attractions.
Check out the latest prices on Agoda.com *
Check out the latest prices on Booking.com *
Four Points by Sheraton Surabaya
Four Points by Sheraton Surabaya is a popular choice for midrange travelers seeking quality and convenience. The hotel boasts comfortable rooms, a rooftop pool with panoramic city views, and a fitness center. Guests can savor delicious meals at on-site restaurants and explore nearby shopping centers and entertainment venues.
Check out the latest prices on Agoda.com *
Check out the latest prices on Booking.com *
Budget (below 50 USD)
Super OYO Collection
In Surabaya, the OYO Collection offers budget-friendly accommodations without compromising on comfort. The Super OYO Collection in Surabaya includes a selection of affordable hotels that provide a reliable and pleasant stay. These hotels offer clean and comfortable rooms, essential amenities, and a convenient location at budget-friendly rates. The Super OYO Collection ensures that even budget-conscious travelers can enjoy a comfortable and hassle-free stay in Surabaya without breaking the bank. One of the popular ones is Super OYO Collection O 30 Amega Crown Sub *.
Check out the latest prices on Agoda.com *
Check out the latest prices on Booking.com *