Top 10 Best Beaches in Lombok 2023
The best beaches in Lombok can rival Bali as it is one of the most beautiful islands in Indonesia. You can expect the same white sandy beaches and azure waters without crowds. So if you plan a trip to West Nusa Tenggara of Indonesia, make sure Lombok is on your list!
Many people are now opting to skip Bali altogether and travel straight to Lombok, and if you choose to go this way, you will be rewarded with a wide range of beaches.
Here is our list of the best Lombok beaches for you!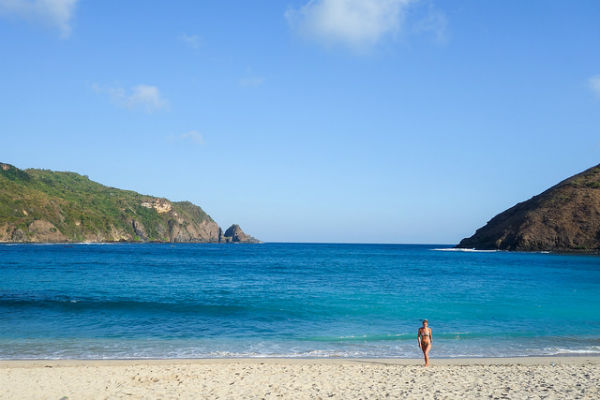 Pink Beach, Lombok
Now is your chance if you have never visited a pink beach. Also known as Tangsi Beach, this beach has a pretty pink shade and is arguably the best beach in Lombok. This is one of only two pink beaches in Indonesia (the other Pink Beach is in Flores), and although it is famous for its strawberry-blonde sand, it is rarely crowded.
You can spend the day here relaxing on the sand or swimming in the neighboring sea. Pink Beach Lombok is located in the small village Sekaroh, Jerowaru, on the east. The luxury hotel Jeeva Beloam Beach Camp is situated along this pink coast.
Selong Belanak Beach
If you want to learn to surf but don't want to do with the crowd at Kuta Beach in Bali, head to Selong Belanak Beach in Lombok. The surf here is of the same standard, with small to medium-sized waves, and you can rent a board and hit the water in a more relaxed and serene environment.
Local fisherman also uses this beach, and you can take in the pretty colored boats here that bob on the water.
Right at this beach, you will find very affordable boutique hotels such as the favorite Bukit Indah Boutique Accommodation *
Mawi Beach
Just a little down the coast from Selong Belanak is Mawi Beach. It is most famous as a surfing beach as there are some nice breaks here, making it popular with surfers who go here from Bali. The breaks here are recommended for advanced surfers only, as the sea has a rocky bottom. One thing to note is that no board rental is available, so you must come prepared.
The water is also pristine, as is the fluffy white sand, making it one of the best beaches in Lombok. So if you don't surf, you can still come here and relax on the beach. You can also take in the stunning views across the bay to Selong Belanak. 
Beaches on the Gili Islands
The Gili Islands off the coast of Lombok comprise Gili Trawangan, Gili Air, and Gili Meno. The Gili Islands have a few of the best beaches in Lombok.
Gili Trawangan is the most developed island and has a long strip of sandy beach that runs around it. The island is also known for its pristine seas, and you can go snorkeling or diving here and enjoy a range of underwater delights, including turtles and sharks.
If you want a more secluded beach spot, consider heading to Gili Meno. This island is known for being popular with honeymoon couples thanks to its small size and intimate atmosphere, and you can spend time on the main beach here enjoying the warm sand and the clear seas.
If you want to stay on Lombok but still with quick access to the Gili Islands, Hotel Tugu * is an excellent choice.
Segar Beach
To the east of Kuta Lombok is Segar Beach which sits in a delightful small cove. It is one of the best beaches in Lombok as it is made up of pretty sand and coral.
You can walk across the sand to a large rock protruding from the bay when the tide is out. This beach is also known for its nice surf break, and some of the leading surf competitions in Lombok are held here. During this the beach can get quite crowded, so it is best to check if there is a competition ahead of time if you want to beat the crowds.
The nearest hotel to this beach is the trusty Novotel Lombok Resorts and Villas *.
Pandanan Beach
To the north of Senggigi in Lombok is Pandanan Beach. It is one of the least visited best beaches in Lombok, so it is a good choice if you want to beat the crowds.
The beach hugs a long strip of coastline, and you can expect clear seas and fluffy white sand. If possible, try to come here in the late afternoon as the beach is known for its gorgeous sunsets. It is one of Lombok's most romantic and secluded beaches, making it perfect for couples.
Senggigi also boasts the best beach resorts or villas in Lombok, with choices such as the Qunci Villas Hotel and the Sundamala Suites and Villas *.
Tanjung Aan Beach
Tanjung Aan Beach is one of the best beaches in Lombok for being one of the most beautiful south coast beaches around Kuta, Lombok. Lush rolling hills surround the beach, and you can hike to the strip of sand here and then swim to cool off.
Getting to Tanjung Aan Beach from Mataram takes around an hour and a half, but the pretty views are more than worth it.
Not too far off are the popular and high-end luxury hotels Villa Sorgas and Villa Strata *. Book well ahead if you want to secure a place here.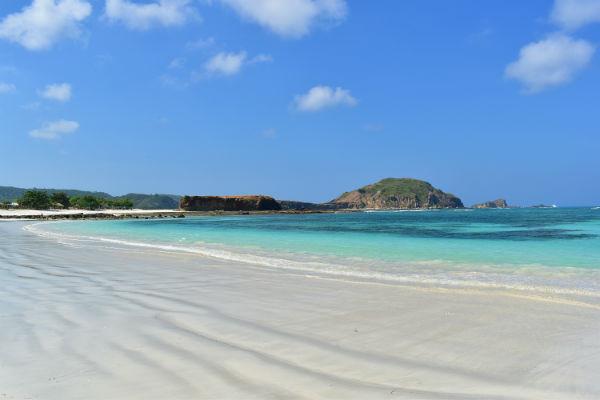 Mawun Beach
If you want to relax on a beach in Lombok, head to Mawun Beach. This secluded beach is around an hour and a half away from Mataram, the capital city of Lombok, and 20 minutes drive from Kuta.
It is also one of Lombok's best beaches for swimming as the waves are small and the currents are gentle. You can spend the afternoon sunbathing on the white sand or enjoy a refreshing coconut from a local stall.
If you want to stay near this beach, don't miss out on the beautiful Villa Atas Pelangi*. If you are looking for a budget homestay, there is the Crispycool Homestay *.
Cemara Beach
If you want to get off the beaten track, head to Cemara Beach in eastern Lombok. This beach is also known as one of the most beautiful in the area, with pretty vistas and lush scenery surrounding it.
The beach is made up of a long strip of white sand that backs onto clear seas, and this is an excellent choice if you want to go swimming or snorkeling.
Since it's off the track, there aren't any nearby hotels or resorts, but the nearest good one is the Ekas Surf Resort * nearby Ekas Beach.
Kuta Beach
Kuta Beach in Lombok is not to be confused with Kuta Beach in Bali and is one of the most popular beaches in Lombok. It is, however, also one of the most crowded beaches on the main island, especially at the weekends, but it is also an excellent place to choose as a base.
The beach stretches for seven kilometers, and you can swim or snorkel here. Several small local cafes dotted along the shore called warungs, where you can get some simple Indonesian dishes like fried rice or noodles. You can also relax on the sand with fresh coconut, and this can be a good choice if you don't have much time to explore the other more secluded beaches in Lombok.
Nearby to Kuta, Lombok, there are many places to stay, with the best-rated Mana Retreats *.
How to get to the best beaches in Lombok
First of all, you need to get into Lombok. While there is an option to fly into Lombok, many tourists make their way to Lombok from Bali. Taking a ferry from Bali to Lombok is a simple and fun option.
Once you are in Lombok, all the best beaches in Lombok are generally not easy to reach, and public transportation is either only with bemos or angkots. The few recommended options are:
Hire a taxi or a Grab car.
Rent a scooter or motorbike and follow directions or use navigation apps.
Hire a private driver through your accommodation or local transportation services.
Tips for visiting the best beaches in Lombok
Sun protection – Lombok's beaches can get quite sunny, so bring and apply sunscreen, wear a hat, sunglasses, and lightweight, protective clothing to avoid sunburn and heatstroke.
Swim with caution – While many of the best beaches in Lombok offer beautiful swimming opportunities, it's essential to be cautious of the ocean conditions. Pay attention to any posted signs or warnings, and assess the current and wave conditions before entering the water.
Respect the environment – Help preserve the natural beauty of Lombok's best beaches by practicing responsible tourism. Avoid littering, use designated bins, and pick up any waste. Respect protected areas, marine life, and coral reefs, avoiding damage or disturbance.
Respect local customs – Lombok has a predominantly Muslim population, so it's essential to respect local customs and dress modestly outside beach areas. Additionally, some beaches may have specific rules or regulations, such as restrictions on alcohol consumption or the use of drones. Familiarize yourself with any local guidelines and follow them accordingly.
Food and hydration – It's a good idea to bring water and snacks with you, as some beaches in Lombok may have limited food and beverage options. Staying hydrated is crucial, especially in hot weather conditions.
Beach security – While Lombok is generally safe, keeping an eye on your belongings and valuables at the beach is always important. Avoid leaving them unattended; use a waterproof bag or container to protect them from water and sand.